Production News
03/05/2017
Shooting Begins On New Feature Film In Bristol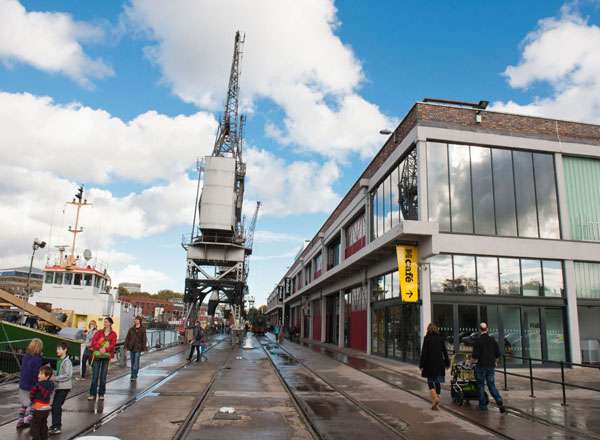 Shooting has started on the second feature film to be made in Bristol this month.
Mike Newell's 'The Guernsey Literary and Potato Peel Pie Society' is filming this week along the same stretch of harbourside that earlier this month hosted filming for Jon S. Baird's Stan & Ollie.
'Guernsey' is the film adaptation of Mary Ann Shaffer and Annie Barrows' international best-selling novel of the same name. Filmmakers were attracted to Bristol due to its uniquely well-preserved harbour and the film's production team will recreate a 1940's dockside using Princes Wharf along with its famous vintage paddle steamer, The Balmoral.
Bristol Film Office has worked with the production team over the past four months to provide location scouting and recces, liaising with the industrial team at M-Shed, securing unit base at Wapping Wharf, sourcing costume stores and arranging holding areas for extras.
Guernsey Producer Paula Mazur says: "Bristol has a fantastic, dockside museum, which has been beautifully preserved. It has enabled us to transform the exterior to represent Weymouth Docks in 1946. We're grateful for the support of the Bristol Film Office in helping us bring our scenes here to life."
Princes Wharf was also used by the filmmakers behind Stan & Ollie, an original film based on one of the worlds most loved comedy duos and geniuses of their time - Laurel & Hardy.
The production team filmed major harbour scenes featuring The Balmoral ship, with other scenes also filming in the vicinity of Bristol Hippodrome. Again, the Bristol Film Office facilitated filming, working with the production team to secure locations and set up a unit base at Lloyds Amphitheatre.
Stan & Ollie producer Faye Ward said: "The Balmoral was a gem of a find. Its conserved beauty was the perfect setting for a crucial moment in the film and we couldn't have done it without the wonderful support of Bristol.
Natalie Moore of Bristol Film Office said: " April has been a fantastic month for Bristol on the big screen. We're delighted to have supported both Guernsey and Stan & Ollie to use our locations this month. Films like these take months of preparation where we introduce the filmmakers to Bristol and show them exactly what the city has to offer. Whether its setting up location recces and liaising with local partners, closing roads or processing permits, a lot of work goes on in the background to help filming run smoothly.
"Shoots like these are major operations that employ local crew and bring an influx of cast and crew to the city to spend in our local economy. The benefits to Bristol are significant, worth more than £16 million to the city last year alone, not to mention boosting Bristol's profile as a world class filming destination."
www.filmbristol.co.uk
Image credit: Bristol Film Office
Top Related Stories
Click here for the latest broadcast news stories.