Broadcast News
09/09/2002
Lighting specialist designs ARRI GB's IBC stand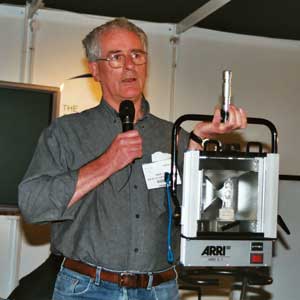 Television lighting director, David Lock, has been entrusted with the design of ARRI GB's stand at this year's IBC 2002 show at the RAI in Amsterdam.
Lock (pictured) aimed to focus attention largely on the company's newly-launched Pocket Par 200 and 400 range but will also feature several other lighting fixtures, including the ARRI range of grip gear.
He also incorporated the X-Light, which he demonstrated at the recent Production Show in London.
"This is a great lamp especially for soft source lighting," he says, "and IBC presents an obvious opportunity to introduce it."
Lock aimed to treat the presentation as he would a film set, looking for opportunities to use various heads with the Pocket Pars. "There will be no bland colour washes. We have a fair amount of flattage and I will get some gobos made up for the Pocket Par 125s," he promises.
"This is an opportunity for challenging people as to whether they had thought about using a particular lamp such as the Pocket Pars out of context - for example the Light Pipe (which produces high quality diffuse light from an HMI source for motion picture and television lighting)."
David Lock will also feature an elaborate use of textiles in what he describes as an "experimental" set. He explains: "One of the problems people face is how do they get the light where they want it. Hopefully I will be able to answer that."
He will have a physical space of 12m (wide) by 14m (deep) in which to work. But he will have the high temperature and high degree of ambient lighting to contend with - since this is not principally a lighting show - as well as the suspension limitations to overcome.
Lock said his goal was to work in as many of the optional extras for the Pocket Pars as he could with the ARRI components available with the overall intention of making the stand as "theatrical."
ARRI Group,
ww.arri.com
Top Related Stories
Click here for the latest broadcast news stories.