Broadcast News
21/05/2002
ARRI complete contract for top Taiwanese studio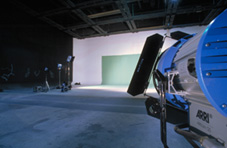 ARRI (GB) have provided the lighting to complete the work by Taiwan's top media post-production company - the Leader Group - on the country's largest studio facility.
After completing their five-year planning and construction project to develop the state-of-the-art Leader Asia Pacific Creativity Center (Lapcc), the company turned to ARRI to provide the hi-tech lighting.
The studio is situated on nine storeys of office block, of which three floors have been removed to allow construction of three large stages. This is the first phase of a project which will see two further studios constructed over the next few years.
The Leader Group placed a £750,000 order with ARRI through Cheng Seng Trading Co Ltd, ARRI's Taiwanese distributor. The distributor put together the lighting specification, in conjunction with a consultant, following Leader's decision to equip largely from the ARRI product catalogue.
Each of the three new production stages are equipped with ARRI's proprietary series, including Daylight, Compact, Arrisun, Pocket Par, Minisun, X-Light, Studio and Arrilite. These were supplied with a full range of accessories, including ballasts, barndoors, filters, transformers and cable.
The order consisted of multiples of Arrisun HMI PAR's, including Arrisun 120 (12K) lampheads, Arrisun 2 kits, Arrisun 60, Arrisun 40/25 lampheads, Arrisun 12 plus lampheads — all supplied with lens kits, ballast and cables.
ARRI X Light series superwide discharge floodlights, included the ARRI X 2 (200W), ARRI X 5 (575W) and ARRI X 12 (1.2kW) with barndoors, ARRI X 40/25, ARRI X 60 (6kW), with reflectors and frosted UV glass, while the ARRI Compact 4kW, 2.5kW and 1.2kW set and Compact 200W kit have also been installed.
The specification also included Arrilux 21/50 Minisun and Arrilux 125W Pocket-Par Pro kit (with gobo projection and liquid light tube and optic), representing the smallest combination daylight luminaire that ARRI has developed to date.
Other luminaires supplied to Leader include Daylight 12/18kW Plus; T-24 and T-12 manual spots, with barndoor and colour frames; Studio 5kw, 2kW and 1kW, with barndoor and colour frames; Junior 650W and Junior 300 — all with barndoor and colour frames.
The new development means that the Leader Group can now deliver complete project planning for film production and post-production, 3D animation and special effects production, professional set design and external temporary power generation, music composition, sound editing and broadcast recording.
At the same time the studio will be able to offer ARRI professional lighting for rental purposes.
ARRI,
www.arri.com
(GMcG)
Top Related Stories
Click here for the latest broadcast news stories.