Broadcast News
23/02/2009
Spain Honoured At Oscars, But UK Cleans Up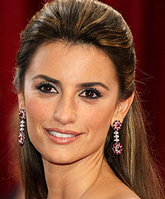 Last night's 81st Academy Awards held some surprises.
Penelope Cruz's Oscar accolade in Los Angeles is actually a double honour.
Not only did the actress step up to the stage as the first winner of the night - picking up the best supporting actress award for her performance as a passionate artist in Woody Allen's Vicky Cristina Barcelona - she also became the first Spanish actress ever to win an acting Oscar.
Dedicated her award "to all the actors from my country" the 34-year-old star, (pictured) who was previously nominated in 2007 said: "Has anybody ever fainted here? I might be the first one".
Meanwhile, low-budget indie British film Slumdog Millionaire won the top prize at the Academy Awards, winning eight Oscars including best director and best picture.
Danny Boyle's Film 4-funded movie, a rags to riches drama set in the slums of India, also claimed gongs for best adapted screenplay and best original score.
In a great night for Britain, Kate Winslet won the best actress Oscar for The Reader, finally clinching the award on her sixth nomination.
After years of waiting in the wings - Winslet, 33, won her Academy Award for playing a Nazi prison officer in The Reader.
But the big surprise of the night was Sean Penn, winning best actor for his role as gay rights activist Harvey Milk.
Heath Ledger won a posthumous Oscar for supporting actor for The Dark Knight.
The actor's family received the award on behalf of Ledger, who died in January 2008.
But the night belonged to Slumdog Millionaire, the rags-to-riches tale that has enchanted audiences around the world.
Director Danny Boyle, 52, bounced up and down in delight as he received his award, telling the audience: "I swore [to my children] if this miracle ever happened I would receive it in the spirit of Tigger."
The film, set in the slums of Mumbai (Bombay), won eight awards in total, including gongs for best adapted screenplay, cinematography, sound mixing, film editing, best original score and best song.
Brad Pitt and Angelina Jolie both went home empty-handed, while The Curious Case of Benjamin Button converted just three of its 13 nominations - all in the technical fields.
Australian actor Hugh Jackman, who hosted the event, excelled too and showed off his musical talents - opening with a medley of songs paying tribute to the best picture nominees.
He went on to join singer Beyonce in a tribute to Hollywood's best-loved musicals.
The winners of the 81st annual Academy Awards in summary are:
Best film, Slumdog MillionaireBest actor, Sean Penn, MilkBest actress, Kate Winslet, The ReaderBest director, Danny Boyle, Slumdog MillionaireBest foreign language film, Japan, Yojiro Takita, DeparturesBest song, Jai Ho, by AR Rahman and Gulzar, Slumdog MillionaireBest original score, AR Rahman, Slumdog MillionaireJean Hersholt Humanitarian award, Jerry LewisBest film editing, Chris Dickens, Slumdog MillionaireBest sound mixing, Ian Tapp, Richard Pryke and Resul Pookutty, Slumdog MillionaireBest sound editing, Richard King, The Dark KnightBest visual effects, Eric Barba, Steve Preeg, Burt Dalton and Craig Barron, The Curious Case of Benjamin ButtonBest documentary short, Megan Mylan, Smile PinkiBest documentary feature, James Marsh and Simon Chinn, Man On WireBest supporting actor, Heath Ledger, The Dark KnightBest live-action short, Jochen Alexander Freydank, Spielzeugland (Toyland)Best cinematography, Anthony Dod Mantle, Slumdog MillionaireBest makeup, Greg Cannom, The Curious Case of Benjamin ButtonBest costume design, Michael O'Connor, The DuchessBest art direction, Donald Graham Burt and Victor J Zolfo, The Curious Case of Benjamin ButtonBest animated short, Kunio Kato, La Maison en Petits CubesBest animated feature, Andrew Stanton, WALL-EBest adapted screenplay, Simon Beaufoy, Slumdog MillionaireBest original screenplay, Dustin Lance Black, MilkBest supporting actress, Penélope Cruz, Vicky Cristina Barcelona
(BMcC/JM)
Top Related Stories
Click here for the latest broadcast news stories.