Broadcast News
12/02/2007
Twofour Picks Up Webcasting Awards At VideoForum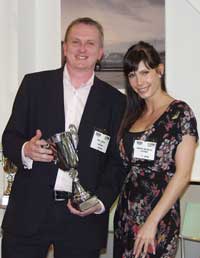 Twofour has picked up two major webcasting awards at a ceremony which took place at the VideoForum 2007 conference at Earls Court.
The IWA (International Webcasting Association) Europe Awards recognise quality, innovation and integration in the world of webcasting. Twofour's Ashes Down Under, the world's first interactive cricket 'mobishow' picked up the prize for Best Mobile Streaming and Chew TV, the pioneering south west based, youth-led broadband TV channel won the main award for Best IPTV Channel.
Chew TV is a collaborative project involving the Arts Council, Creative Partnerships, Cornwall Film and South West Screen with Twofour providing the platform as well as technical and creative support. Launched last November it is the first channel of its kind that uses user-generated content as part of a programme schedule alongside commissioned programmes. It not only provides young people with exciting new entertainment and communication possibilities via the internet, it also enables further networking between young people, their peers and the media industry.
Twofour's Group Technology Officer, Paul Tarplee, accepted the two trophies which were presented by the actress Anouska Bolton Lee.
"It is a great tribute to the creative skills we have in the south west that we have picked up two of the six IWA Europe webcasting awards," said Paul Tarplee, "and winning the main award for Chew TV is proof that collaborations between a range of media agencies really works."
Visit Chew TV where there's still time to enter the Comic Relief competition:
www.chewtv.com
The task is to make a short film on happiness. For details look in the news section of the Chew TV site. The deadline has been extended till 28 February and winning films will be showcased on rednoseday.com - seen by millions.
(DS)
Top Related Stories
Click here for the latest broadcast news stories.