Broadcast News
12/08/2021
Marketron To Host Free Webinar In August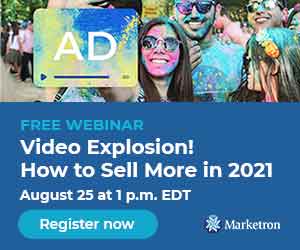 Marketron is to host a free webinar on 25 August demonstrating how broadcasters' sales teams can leverage video, OTT, and CTV ads to increase the size and quantity of their digital orders.
During the live event, 'Video Explosion! How to Sell More in 2021', Marketron experts will explain the differences between these critical digital tactics and how sales teams can use them to enhance the value of their proposals and capture a greater share of rapidly growing video advertising revenues.
The free webinar, which begins at 1pm, will feature Jeff Ulrich, Marketron senior manager of digital transformation and enablement, and Mark Weidel, Marketron senior training and onboarding associate. Ulrich and Weidel will delve into the details of how broadcasters and sales teams can plan, prepare, produce and promote campaigns that leverage the latest video, OTT and CTV ad tactics to deliver stronger results for advertisers.
"In today's world of ever-changing strategies and tactics, it's important to be able to sell them effectively and with confidence," said Ulrich. "Anyone in broadcast and media sales — sales managers, sales reps, digital sales teams — can benefit from a stronger, deeper understanding of today's most successful digital tactics for video advertising, and everyone is welcome at this live event!"
"Video ads are booming, and there's never been a more important time for sales teams to learn how they can augment campaigns and drive success for advertisers," added Weidel. "We look forward to helping attendees better understand this essential area of digital advertising and to answering any questions about how to bring video-ad campaigns to life."
www.marketron.com
Top Related Stories
Click here for the latest broadcast news stories.