Broadcast News
01/07/2021
Marshall Electronics Announces Collaboration With NETGEAR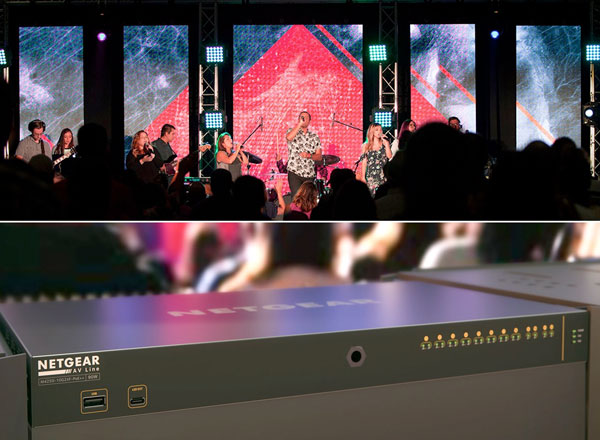 Marshall Electronics has added NETGEAR's M4250 network switches for Pro AV applications to its product lineup.
This comes as part of a new partnership between the pair, which sees the M4250-10G2XF-PoE+, M4250-10G2XF-PoE++ and M4250-26G4F-PoE++ offered to Marshall Electronics, providing an easy way to set up IP camera/controller/switch solution for its customers.
"Anytime Marshall has a chance to align itself with a company that manufactures game-changing products, like NETGEAR, is a big win," said Tod Musgrave, Director of Cameras, Marshall Electronics. "We look forward to providing our customers with NETGEAR's switches alongside our IP cameras and controllers, with verification and endorsement by NETGEAR. This collaborative partnership guarantees compatibility, giving installers the assurance they need for a successful setup. Marshall customers will also gain access to NETGEAR's Pro AV Design Engineering team and a lifetime warranty on NETGEAR products. In addition, Marshall can now offer ultra-competitive pricing to integrators and local dealers on ProAV models required for IP network projects."
NETGEAR's AV Line of M4250 Switches maintains the same out-of-the-box AV friendly functionality found on the popular M4300 and M4500 switches. Deploying multicast AV over IP networks with the M4250 switches is a simple plug-in and turn-on operation. The new AV interface of the M4250 switch presents the common AV controls with user-selectable profiles up front, ensuring the settings are correct for specific audio or video applications.
The M4250 switches are designed for clean integration with traditional rack-mounted AV equipment. The sleek, black enclosure provides port and activity status on the front panel, with all power and network cabling meticulously organised on the rear panel. The M4250 switches can also be reverse mounted in an AV rack. Additional options for mounting the switch outside a rack, such as VESA mounts, are built into the enclosure.
"We look forward to this collaboration with Marshall Electronics to provide its customers with our NETGEAR switches," said Laurent Masia, Director of Product Line Management for Managed Switches, NETGEAR. "The M4250 AV Line has unique capabilities including NETGEAR IGMP Plus™ to provide Marshall IP cameras with effortless video capabilities. When using Dante or AVB in an audio deployment, customers can trust that NETGEAR's AV Line switches are designed to seamlessly integrate into your solution."
Marshall's complete line of IP cameras and controllers are compatible with the NETGEAR M4250 line, including its CV605-series, CV620-series, CV630-series, CV730-series, CV420-30X-series, CV355-30X-series and its VS-PTC-IP controller.
There is an intention to expand the partnership by adding additional SKUs in the future.
marshall-usa.com
Top Related Stories
Click here for the latest broadcast news stories.