Production News
04/11/2020
BBC Radio Cymru Announces New Names To Weekly Line-Up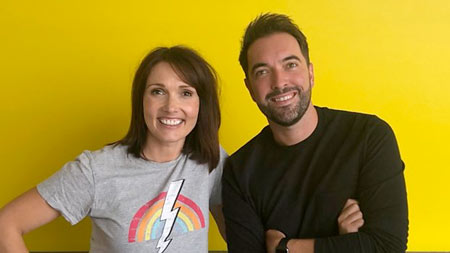 BC Radio Cymru announces new names to the weekly line-up.

From 20 November, Trystan Ellis-Morris and Emma Walford will host a live show every Friday between 9am and 11am. The pair, who recently won a BAFTA Cymru award for their work on Prosiect Pum Mil on S4C, will start the weekend early Friday mornings with a show full of fun, competitions and great chat - along with the best music.

Trystan said: "We can't wait to spend Fridays with Radio Cymru listeners and start the weekend with plenty of tunes, chat and lots of laughs. We're really looking forward to it."

On Friday nights Ffion Emyr - a familiar voice to listeners on a Saturday night - will take to the airwaves creating 'a night out while staying in' vibe with good company and lively music between 10pm and 12am.

Between 6pm and 6.30pm, from Monday to Thursday programmes will bridge the afternoon and evening shows, including a new programme on a Tuesday Gwneud Bywyd yn Haws (Making Life Easier). Hanna Hopwood Griffiths will host a discussion programme with the aim of doing exactly what the title suggests, to make life that little bit easier. Hanna and her guests will cover all kinds of topics – from debt to health, to housekeeping – offering help and advice along the way.

The rest of the week at 6pm will see a weekly documentary, a new series of Benbaladr, looking at international matters through the eyes of Welsh people living and working across the world and a new quiz show in January Penben. The political programme Hawl i Holi will also return for a live broadcast each month from November.

The music programmes - Recordiau Rhys Mwyn, Hwyrnos Georgia Ruth, Lisa Gwilym yn cyflwyno a Byd Huw Stephens - will begin at 6.30pm. And Stiwdio, Dei Tomos, Cofio, Beti a'i Phobl will move to 9pm. Geraint Lloyd will remain at the helm between 10pm-12 Monday to Thursday.
Top Related Stories
Click here for the latest broadcast news stories.