Broadcast News
15/04/2009
WildThingTV To Showcase New Breed Of Animal Programmes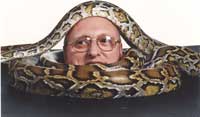 The launch of new Web TV channel WildThingTV has been hailed as an exciting opportunity for film-makers working with animals by the man dubbed 'the most versatile animal trainer on the planet'.
Trevor Smith, host of the popular TV series Wild Thing which has been broadcast in over 60 countries, predicts the new channel will be a showcase for talented programme makers who are being overlooked by traditional broadcasters.
Smith said: "I think it is one of the most exciting things I have ever seen for anyone working with animals like myself because it enables the content to be broadcast to a worldwide audience and it can be viewed 24 hours a day.
"It also offers an exciting opportunity for film-makers unable to get airtime on channels like Animal Planet because there is no limit to the amount of programmes that can be aired at one time.
"For me as an animal trainer it is the best possible way to promote my business because I can direct clients to the Channel and they can see exactly what I can do with their own eyes."
WildThingTV has been launched with Smith as the Face of the Channel and all the adventures from series one of the TV series of the same are being screened from Day One.
Channel Controller John Gubba reveals that approaches have already been received from other professionals working in the animal world who want to be showcased on WildThingTV.
Gubba said: "We are particularly interested in talking to people with a good story to tell who have the means of funding original content. This includes branded content and programming funded by a sponsor.
"We are delighted to have Trevor Smith as a host on our channel because he is a larger than life character who really is the Dr Dolittle of the filming world. He's been working with animals for over 30 years and he has earned the right to be called the most versatile animal trainer on the planet because he can operate anything from a house fly to a hippo."
WildThingTV can be previewed here:
www.blinkx.com/channel/WildThingTV
.
(KMcA/BMcC)
Top Related Stories
Click here for the latest broadcast news stories.