Broadcast News
10/03/2020
GatesAir To Broaden Range Of Maxiva Transmitters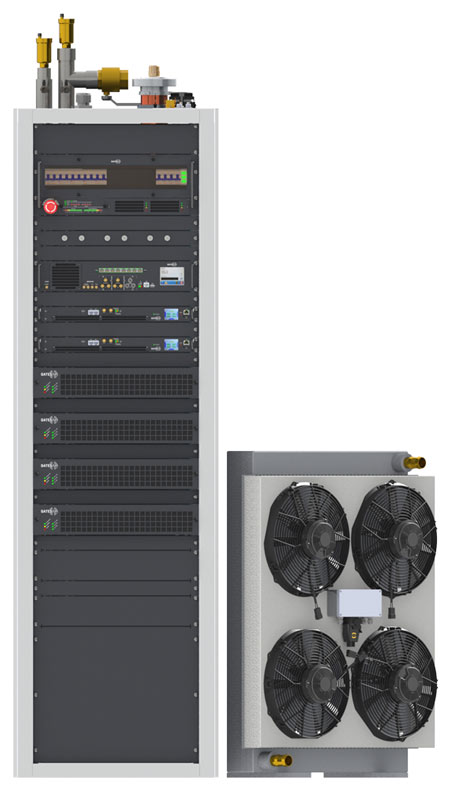 GatesAir will broaden its range of Maxiva transmitters and next-generation software innovations for digital broadcasters at the 2020 NAB Show.
GatesAir will introduce its first Maxiva liquid-cooled transmitter line for VHF television and DAB Radio, alongside several compact, high-density transmission solutions from its new GatesAir Europe division. GatesAir will also unveil several ATSC 3.0 software innovations to address the unique IP networking architecture and security requirements of NextGen TV.
GatesAir extends the proven operational benefits of its liquid-cooled UHF transmitters to VHF and DAB Radio with the global debut of its Maxiva VLX-OP Series. The high-efficiency, frequency-agile transmitter line covers low-band VHF (Channels 2-6), high-band VHF (Channels 7-13), and DAB/DAB+ radio. The VLX-OP Series offers the same software-defined modulations as Maxiva VAXTE air-cooled transmitters to support global analog and digital standards.
Like GatesAir's Maxiva ULXTE liquid-cooled UHF transmitters, the VLX-OP Series integrates redundant, liquid-cooling pumps that efficiently move transmitter-generated heat to building exteriors. The system minimizes cooling requirements inside RF shelters, and especially reduces utility bills at medium-to-high power levels. The VLX-OP Series also leverages the unparalleled power density of Maxiva transmitters to reduce size and weight, and hot-swappable modular designs to streamline maintenance.
At NAB, GatesAir will emphasize the Maxiva VLX-OP Series' benefits for ATSC broadcasters. The VLX-OP Series transmits at the same power level for ATSC 1.0 and ATSC 3.0 broadcasts (from 1.8kW to 43kW), which simplifies and lowers the cost of transitioning to NextGen TV.
GatesAir will also introduce advanced software features for NextGen TV content protection such as STL Security, a layer that encrypts the ATSC 3.0 content path. These features, along with a secure HTML5 web interface, will be available in all Maxiva UHF and VHF transmitters.
GatesAir's US-based engineers developed the Maxiva VLX-OP in cooperation with GatesAir Europe, a recently acquired division that has brought many of its innovations to the company. Several will receive their North American debut at the 2020 NAB Show:
Maxiva PMTX-1 Pole-Mount Transmitter Series: An outdoor pole-mounted 50W post-filter transmitter unit that can be configured as a transmitter, translator or on-channel gap filler. Covering all UHF/VHF standards plus DAB Radio, the PMTX-1 comes in a rugged, telecom-grade weatherproof enclosure ideal for extreme weather conditions, and allows for installations where transmitter buildings are not available. The DC-powered, pole-mount design has no moving parts or air filters, eliminating most maintenance requirements.
Maxiva IMTX-70 Multi-Transmitter Desktop: Designed in a unique compact case that can house up to six 70 W TV transmitters and/or translators/transposers, the ingenious packaging of this unique transmitter minimizes real estate costs associated with multi-transmitter operational support.
Maxiva MultiD Multi-Carrier DAB Transmitter: The MultiD multi-carrier platform brings three DAB transmitters together into a compact 1RU chassis — a unique design attribute that reduces space and equipment costs, and simplifies installation. The multi-carrier architecture removes the need for external RF combining, and instead generates and re-transmits all three channels through a single amplifier. The multi-carrier modulation supports adjacent and non-adjacent frequencies, providing a flexible lower cost solution for DAB networks.
All three systems leverage GatesAir Europe's clever design and engineering innovations, including cable-free, plug-in architectures that accelerate assembly and upkeep, reduce clutter and maintenance, and increase system reliability. Additionally, a single-band PA module covers all Band III frequencies in VHF and DAB Radio – a unique competitive advantage that eliminates jumpers, tuning and other frequency-related adjustments.
www.gatesair.com
Top Related Stories
Click here for the latest broadcast news stories.