Broadcast News
13/03/2020
Bringing A National DAB Radio Network To Life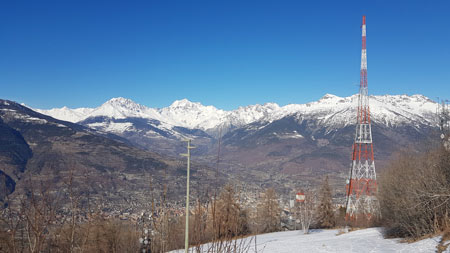 Italy has been at the forefront of digital radio adoption in Europe for two decades, with three national and several local DAB+ multiplexes on the air today. Approximately 83 percent of the Italian population can receive DAB+ broadcasts today, with well over 150 different transmission sites from three national broadcasters.
Of the three services, DAB Italia has perhaps the most interesting history. The network operator launched its initial tests in Northern Italy in 1998, and was actively involved in regulatory development for the emerging medium. Those developments stretched into the second decade of the new century, resulting in DAB Italia's 2012 commercial launch.
DAB Italia's early and continuous efforts have paid off. With more than 120 live transmission sites from the Austrian border south through Naples, Italians with DAB+ receivers – currently estimated at more than 4.5 million – can receive 16 DAB Italia digital radio programs. Many are broadcast exclusively in DAB+, with others also available as FM simulcasts.
The early rollouts focused on major cities to address the most heavily traveled regions. However, Italy's geographical footprint expands over 116,350 square miles, with plenty of open highways, expansive countryside areas, and challenging terrain.
Today, the DAB Italia team tries to locate each transmitter site based on what will provide the best coverage. The location often comes down to availability, including rooftop sites, traditional high broadcast towers, and hilltop locations to penetrate valleys in rural areas.
The DAB Italia network includes a mix of transmitters from six vendors, some of which are no longer in business. The most recent phases have largely utilized GatesAir Europe transmitters. Hanns Wolter, Technical Director, DAB Italia, notes that GatesAir strikes the right balance of price, performance, and space-efficiency for their growing network.
"GatesAir proved to be an important partner as our network has grown," said Wolter. "An important recent development is the integration of satellite receivers into the most recent transmitters they shipped. That removes the cost of external receivers. They are active listeners and responding to our
DAB Italia has deployed 15 GatesAir Maxiva transmitters since early 2019 covering a range of power levels and network requirements. "The first GatesAir transmitter we installed provides DAB+ service to the city of Verona, but we also have a number of medium-power transmitters and gap fillers. Most of these transmitters deliver power levels of 100, 250 or 450 watts. But we have gap fillers as low as 25 watts, and a few higher power systems that go up to 2.5 kW.
"What is most impressive operationally is how efficient they are, even at the low-power gap filler end," he continued. "The GatesAir transmitters all deliver above 40 percent efficiency. The operating cost difference with the gap fillers isn't quite as significant, but the medium to higher power transmitters are reducing our energy costs by 15 to 20 percent a year."
Wolter notes that GatesAir has reduced the maintenance burden with more modern and clever designs. "It's almost like a Lego box, especially with their smaller transmitters," he said. "There have interlocking parts and no cables. And these are very compact transmitters with separate amplifiers. It also makes for interesting solutions for tunnel coverage, which we are now evaluating."
Wolter expects to significantly expand the network over the next two years, taking the DAB Italia service to more smaller cities, towns and roads, one by one. The most recent GatesAir transmitters recently went on the air in Ferrara and Asti, which represents their expansion strategy into smaller cities.
www.gatesair.com
Top Related Stories
Click here for the latest broadcast news stories.