Broadcast News
02/03/2020
PlayBox Neo To Demonstrate Broadcast Playout At CABSAT 2020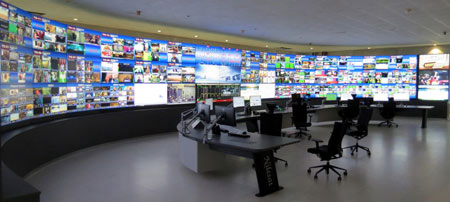 PlayBox Neo will demonstrate its full range of broadcast playout and channel branding solutions to CABSAT 2020 attendees at the Dubai World Trade Centre, March 31st - April 2nd.
Highlights of the exhibit on stand E4-20 in hall 4 will be the PlayBox Neo Channel-in-a-Box system and the software-as-a-service-based Cloud2TV.
"Our products are built on 20 years of solid experience working with customers ranging in size from globally active broadcast networks to independent channel owners and playout service providers," says PlayBox Neo CEO Pavlin Rahnev. "They include major players in the MENA market such as BHS, EutelSat, Gulsat, Nilesat and ViewMedia, to mention just a few.
"We continue to lead the way in terms of product robustness, refinement, scalability and versatility. Central to our success is modularity, giving operators the ability to perform any or every function involved in television content preparation, from ingest, QC, transcoding, graphic branding and scheduling right through to transmission.
"MENA broadcasters, like their colleagues around the world, are looking for maximum reliability and creative efficiency. Our CABSAT demonstration will show how easy PlayBox Neo systems are to deploy and, thanks to the intuitive PlayBox Neo graphic interface, very easy operate.
"PlayBox Neo customers also expect, and get, absolute freedom to expand their systems as their business develops. There is no size limitation, from the day of installation right onward through the full lifetime of the system. We support every scale of operation from single channel to a large scale network, in SD, HD and UHD resolutions, with any desired level of auxiliary protection. Accommodating extra channels is a simple matter of adding one or more extra servers.
"MENA market broadcasters are supported during installation, training and post-sale by local distribution partners, supplemented by fast online support if required.
"We will also be promoting our uniquely powerful Cloud2TV service which can be configured for terrestrial, satellite or CDN-based playout under full IP control. Cloud2TV also forms an ideal platform for secure media asset management and archiving, accessible by authorised personnel anywhere in the world. The PlayBox Neo broadcast product range and Cloud2TV can output in baseband SD, HD or UHD SDI, in DVB/ATSC-compliant streams and in web-based formats such as RTMP. Simulcasting of SDI and one or multiple streams is also possible.
"To put it simply, we invite all CABSAT visitors to come and see what has made PlayBox Neo the world leading producer of television playout and branding channels."
www.playboxneo.com
Top Related Stories
Click here for the latest broadcast news stories.