Broadcast News
30/01/2020
mediaClass Develops Own AI-Based Recommendation Engine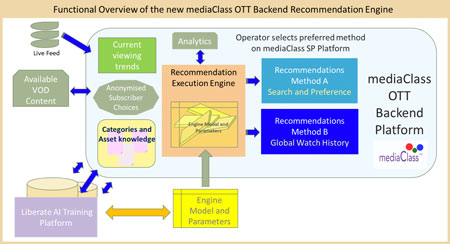 mediaClass has announced its own developed AI-based recommendation Engine.
"We have been testing and measuring the success rate of the engine for some time," said mediaClass CTO Stilian Tchlakov. "For this release we have settled on two operator-selectable modes, both of which offer excellent results."
"Without giving too much away technically, mode one is based on AI analysis of personal preferences and searches; mode two is based on studying and machine learning the watching-behaviour of hundreds of thousands of anonymous subscribers" adds mediaClass Head of Research and Development Youri Kalinov. "The mediaClass AI Recommendation Engine uses state of the art technology from Liberate AI to predict and deliver viewer-specific television content recommendations. This is a step change from what has been possible in the past."
"Judging from the measurement results I have seen, the Liberate AI machine learning technology certainly gives us a significant edge," details mediaClass EVP Manelli Hosseini. "We will be providing the engine as an integral part all mediaClass deployments. We now have to decide whether to market the recommendation engine as a standalone package to offer its advantages for non-mediaClass deployments."
www.mediaclass.tv
Top Related Stories
Click here for the latest broadcast news stories.