Broadcast News
16/01/2020
Movietech Takes Exclusive First Delivery Of Zeiss Supreme Primes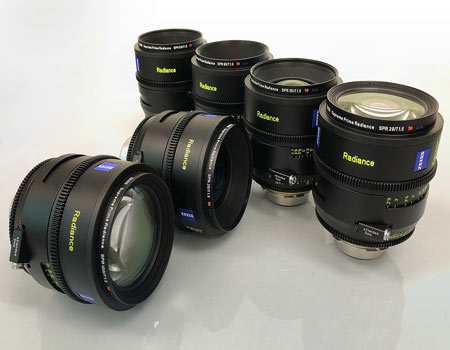 Movietech has taken an exclusive first delivery of the new Zeiss Supreme Radiance Primes.
Forming part of the Movietech large format lens inventory, new Supreme Radiance Primes, crafted by renowned German lens crafters Zeiss, are exclusively available for rental through the company's Pinewood Studios and Pinewood Wales bases.
Created to allow Cinematographers unprecedented levels of control over stunning, consistent flares, these compact lenses have all the attributes you would expect from a high-end, modern lens collection whilst retaining all the features associated with the regular Zeiss Supreme Primes.
Along with the incredible flare control, the unique look of the Radiance collection is further characterised by their supremely smooth in-focus/out of focus transition which adds richer texture and greater depth to images.
Available in a choice of a focal lengths, 21mm, 25mm, 29mm, 35mm, 50mm, 85mm and 100mm, all T1.5, this versatile seven-lens set is designed for cinematic large-format sensor coverage and is fully compatible with the Movietech Full Frame camera selection.
Speaking about the new lenses, Movietech's Dave Palmer said: "We're excited to have early delivery and exclusive rental on these new Radiance Supremes. Zeiss really have built a beautiful set of large format lenses, which have already gained a huge amount of interest from cinematographer friends working in all areas of our industry."
The addition of the Zeiss Supreme Radiance Primes to Movietech's expansive lens inventory, enhances the company's ability to offer access to one of the industry's broadest selection of contemporary and classic lens options.
The Movietech team will be on hand to meet, greet and introduce their new Zeiss Supreme Radiance Prime lens collection throughout the BSC Expo 2020.
www.movietech.co.uk
Top Related Stories
Click here for the latest broadcast news stories.