Broadcast News
15/05/2017
Spiritland Delivers Supreme Sonic Experience With Audio-Technica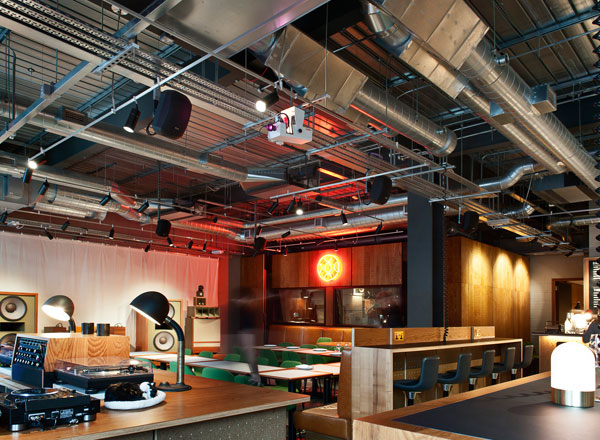 Created as a space to "celebrate artistry and indulge the senses", Spiritland's world-class, bespoke sound system makes it one of London's most exciting new venues.
Combining café, bar and radio station with an in-depth musical programme seven days a week – already featuring the likes of guest DJs Jarvis Cocker, Andrew Weatherall and La Roux – Spiritland has established itself as a paradise for lovers of music, from the aficionado to the curious.
A recent collaboration between Spiritland and Audio-Technica UK has seen a variety of the company's brand product portfolio installed in the venue to help deliver the diverse offering of interviews, Q&A sessions, DJ sets, album playbacks and radio output.
The heart, and it could be said 'soul', of Spiritland is its remarkable sound system, featuring a unique pair of Living Voice loudspeakers, valve amplification from Italian manufacturer Atelier du Triode and a towering Kuzma turntable. At the very beginning of the audio chain is Audio-Technica' s hand-crafted ART1000 direct power moving coil cartridge which is employed to provide perfect audio reproduction from the turntable onwards. The ART1000 was released by Audio-Technica Japan in 2016 and is the culmination of many years of research and development in direct power cartridge technology, where mounting the coils directly on top of the stylus tip allows the cartridge to vividly render the most subtle sonic details with an unsurpassed transient response. Additional cartridges selected from Audio-Technica's new VM moving magnet range are used for vinyl playback from the separate twin decks at the DJ booth.
Five pairs of Audio-Technica' s flagship M-Series headphone, the award-winning ATH-M70x, and five BP40 large-diaphragm dynamic microphones are the foundation of the radio studio set-up (with limited edition matte gray ATH-M50xMG headphones available for visiting artists at the DJ booth); while U853R condenser hanging microphones are also installed from the ceiling for ambient sound pickup of the audience in the main seating area. The brand's hard-working ATM610a hypercardioid dynamic and BP892 subminiature condenser headworn microphones also feature for live panel and interview sessions.  
Audio-Technica UK were also able to provide a solution for the spoken word and background audio with six Apart Audio Mask 6T two-way speakers mounted above the café/bar area, powered by Apart's four-channel REVAMP4120T bridgeable power amplifier. The Mask 6T's sleek, curved cabinet design fits well with Spiritland's considered design aesthetic, while an additional REVAMP4120T powers different pairs of vintage bookshelf speakers which are located in each of the venue's four restrooms.  
Overall the Audio-Technica microphones, headphones and cartridges employed in Spiritland's signal chain help complete an enviable mix of original analogue equipment, while also playing a part towards the output generated from the venue's cutting-edge editing and streaming facilities.
Audio-Technica Europe Marketing Director Robert Morgan-Males said: "We're delighted to be partnering with Spiritland. The venue's dedication to deliver a real 'live' audiophile listening experience as well as stimulating discussion around music and sound is inspiring. Spiritland is a particularly interesting project for Audio-Technica UK as it enables our company to engage a number of our specialist product segments in the one location: broadcast, live sound, installed audio and the highest end of audiophile reproduction. It's truly a pleasure to be involved in the delivery of such a diverse programme in the heart of London."  
Paul Noble, Spiritland's artistic director added: 'We're thrilled to be working with Audio-Technica on making our musical dreams come true at Spiritland. Spiritland is a huge operation in a small space with elements including hospitality, nightly DJ sets, radio broadcasts, live talks, a retail offering and more - and Audio-Technica are involved in every aspect, from the cartridges used in the DJ booth to the amplification throughout the venue. They have been a fantastically supportive partner in this project."
audio-technica.com
(MH/LM)
Top Related Stories
Click here for the latest broadcast news stories.