Broadcast News
23/10/2019
Take 2 Films Orders Vega Lenses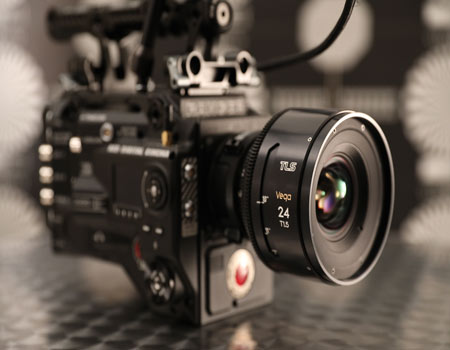 Take 2 Films has ordered 15 sets of TLS's new full frame lens series, Vega, which will be delivered over the course of the next 24 months.
TLS's latest development, Vega, is a new series of Full Frame cine prime lenses. Vega exists in a set of ten lenses, including 20mm, 24mm, 28mm, 35mm, 50mm, 58mm, 85mm, 105mm, 135mm and 200mm focal lengths, ranging from T1.5 to T2. TLS was commissioned by Take 2 Films to design a light and fast, full frame set of lenses to match the already successful 80-200/ T.2.8 Morpheus lens, allowing cinematographers the option of combining zoom and prime lenses on productions, without concerns of an unmatched look.
The Vega lenses were developed with filmmakers in mind and in response to the market's growing demand for lenses capable of covering the larger full frame digital camera format, as well as offering up classic glass which has thus far not been available in a professionally finished set. Over the course of 18 months TLS worked closely with the technical team at Take 2 Films to ensure they were producing a future-proof range of lenses which best met the requirements of modern cinematography. As a result, the Vega lenses are interchangeable between PL mount and LPL mount, ensuring optimised performance with native LPL mount cameras, like the ARRI LF and ARRI LF Mini without the need for an adaptor.
"This lens set brings a new option to cinematographers who wish to make use of full frame lenses with a classic look that most others don't provide, alongside professional mechanical and optical performance, expected by both DPs and ACs alike," said Mike Watson, Take 2 Films Head of Technical Operations. "Within weeks of delivery, our first two sets were chosen to support a feature film."
Stephen Lowe, Lens Servicing Manger, said: "This original design concept will add choice for cinematographers wishing to use full frame lenses on their projects. Currently, there are limited options available that are specifically built to withstand modern-day environments. The series has been optimised for close focus use and features a circular, multiblade iris to add to their usability. Using the knowledge we have gained from rehousing vintage lenses, the cam form system used on this series of lenses will provide precise, repeatable use for focus pullers."
www.take2films.co.uk
Top Related Stories
Click here for the latest broadcast news stories.