Broadcast News
08/10/2019
Vortex To Exhibit Products At The Broadcast Technology Roadshow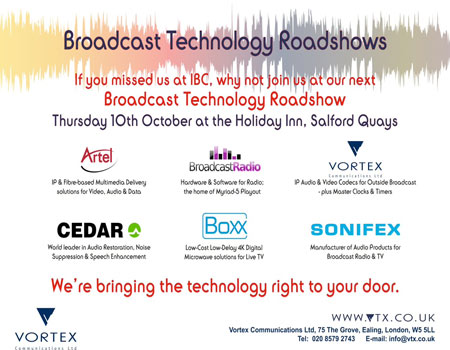 Welcome to our Broadcast Technology Roadshow – Salford Quays on Thursday 10th October. With slimmed-down resources in larger organizations and more smaller companies working within the industry, the idea of bringing the technology to the customer is very appealing for everyone.
So what's the big idea bringing the technology right to your door?? As a manufacturer, exhibiting at a trade show is extremely expensive especially this year where the GBP has dropped like a stone. The cost of travel and the possibility of travel disruption because of strikes or weather hinders setup and attendance, whilst the cost of hotels that take full advantage of having a large trade show in town to more than double their rates - plus the cost meals and local transport – not to mention the cost of the exhibition space and stand - makes exhibiting a very significant commitment. 
From the visitor side, in these days of tight budgets, all the travel and hotel costs are all there plus there is the big issue of losing time at-the-coal-face to attend and we find that even the largest "home" organizations are sending just one or two - normally with a shopping list and agenda to gather all the information. Of course there are always "locals" and the opportunity to meet people that you would otherwise not come across - and "consultants" tend to make it to the shows, otherwise there would be no point in going at all as an exhibitor.
It is a shame is that the large cohort of our regular technology users do not get to see the latest products at first hand and a select number of smaller manufacturers have clubbed together to hold a series of small local Roadshows to provide this opportunity. Having a number of non-competing companies working together provides users with a broad product range at a single nearby location whilst from the manufacturers' point-of-view, we can combine a number of customer visits to a single event being held on "neutral territory". The first Broadcast Technology Roadshow is at the Holiday Inn, Salford Quays on Thursday 10th October. It opens at 9.30am with last entrance at 3pm and we ask that prospective visitors confirm their attendance.
In strict alphabetical order:
ARTEL is a world-class provider of innovative, real-time multimedia delivery solutions serving global markets. Artel products support mission-critical workflows whilst Artel's expertise in IP and fibre-based technologies spans more than 30 years establishing Artel as a trusted partner for reliable, standards-based IP infrastructures.
BOXX TV supplies innovative digital microwave solutions to the broadcast industry using ground-breaking technology especially designed for the needs of live-to-air broadcasts, ENG operations and Stedicam.
BROADCAST RADIO offers a wide range of software, technical equipment and services for the broadcast radio industry. Our flagship Myriad Playout software can be found throughout the radio industry in countries around the world and is supported by a suite of professional broadcast software covering every aspect of modern radio.
CEDAR Audio's noise suppression and audio restoration products are used widely in live broadcast and post-production.  Dialogue noise suppressors can be placed in the audio path of the broadcast chain with no loss of lip-sync, and their simple control panels and remote control interfaces make it possible to install and use them quickly and effectively.
SONIFEX celebrates its 50 year anniversary of manufacturing audio broadcast equipment for radio and TV studios. Historically known for making cart machines "back in the day" Sonifex have a large product range, including Redbox audio interfaces.
VORTEX COMMUNICATIONS manufactures and supplies Video and Audio equipment including its CallMe SmartStream™ low-cost IP Audio Codec.  It also distributes Comrex LiveShot Video Codec and industry-standard ACCESS CrossLock codecs and JK Audio telephone interfaces and hybrids.
www.vtx.co.uk
Top Related Stories
Click here for the latest broadcast news stories.