Broadcast News
16/09/2019
Qvest Media Brings Trend-Setting Solutions To IBC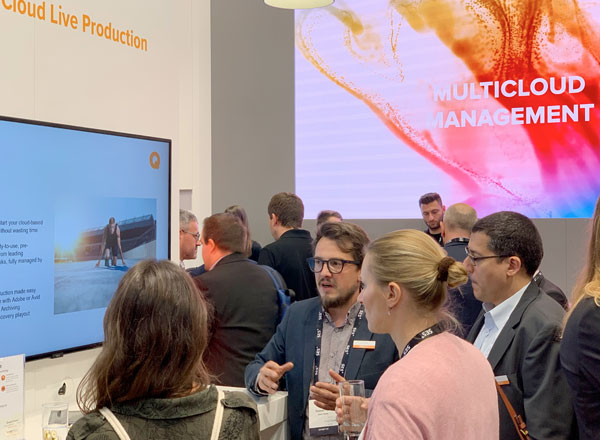 Qvest Media has made a statement at this year's IBC Show with demonstrations around its popular lineup of cloud solutions.

Demonstrating on Stand 3.B40, the company has showcased Qvest.Cloud, Qvest.Cloud Go!, Makalu and more.

With Qvest.Cloud, Qvest Media paves the way for virtualized and platform-based systems integration. Qvest.Cloud enables media companies to map their media workflow as a multi-cloud and hybrid infrastructure with an app catalogue of more than 60 cloud applications from leading manufacturers. Qvest.Cloud Go! offers ready-to-use app bundles, enabling media creators and creative teams to flexibly book tasks such as live production, post-production, archiving, and distribution as SaaS solutions. In addition, the company is expanding its line-up of cloud products with the software-defined playout automation Makalu, compliance recording with Infinity, and the middleware solution Fusion for accelerating newsroom workflows.

Qvest.Cloud Ultimate is aimed at companies that want to orchestrate, manage, and analyze their media technology - either on-premise, with a single cloud provider, in a multi-cloud environment or in a hybrid model. In addition, system resources can be scaled according to demand and the cost structure of production processes can be planned and evaluated. In order to be able to do so, Qvest.Cloud customers are provided with the integrated features Cloud Automation, Workflow Orchestration, User Management, Monitoring, Measuring & Billing as well as Cost Control. Thus, Qvest.Cloud Ultimate is the key to complete systems integration in the cloud and allows to virtualize the entire media workflow. More than 60 cloud applications from leading manufacturers are available in the continuously growing app catalog and can be interlinked to create an individual workflow.

Qvest Media also offers with Qvest.Cloud Go! ready-to-use and scalable app bundles to media producers and creative teams as a SaaS model:

Q.Live
Q.Live can be put into operation ultrafast and live productions can be streamed to any number of online and social media channels such as Youtube, Twitch, Facebook, or Web TV. Q.Live is pre-configured with cloud applications from innovative software manufacturers like Make.TV, Singular Live, and Easy Live for signal routing, graphics, mixing, effects, and streaming.

Q.Create with Adobe or Avid
Worldwide distributed production teams call for collaborative applications. With integrated post-production solutions for ingest, editing, and project management, Q.Create is designed to do just that. Q.Create is available in two different versions that include either Adobe or Avid as the core collaborative cloud editing product. Avid users gain access to virtualized Media Composer and NEXIS storage solutions that make expensive high-end workstations obsolete. The Adobe version focuses on comprehensive project management and is aimed at freelancers, SMEs, or agencies so that they can work together efficiently and location-independently.

Q.Archive
With modern archiving and indexing solutions, more and more companies are rediscovering lost media assets that can be quickly targeted and efficiently monetized. Q.Archive scours through media material, assists with metadata enrichment and media assets are stored in low-cost and secure deep archives in the cloud.

Q.Safe
Q.Safe is a pre-packaged disaster recovery solution in the cloud for failure protection of a linear playout automation system. The disaster recovery automatically synchronizes with the live system in the background. Q.Safe can be operated in 24/7/365 parallel operation or, if required, temporarily with a spin-up time of a few minutes.

Q.Air
Q.Air is a cloud-based playout automation for occasional or event-based channels. It covers media tasks like planning, creation, editing, storage, media management, graphics, transcoding, and playout. In addition to cloud-typical scalability, media companies benefit from lower initial costs, so that, for example, new business models can be tested on the market at low risk.

Makalu
Makalu is a self-sufficient cloud-based playout automation system. It allows for a complete end-to-end signal workflow – from ingest to distribution. Fast deployment within minutes and a consumption-based billing model make Makalu a highly scalable, flexible, and cost-effective solution.

Manaslu
The studio playout solution Manaslu is designed for vendor agnostic deployment in virtualized and cloud-based environments. Thanks to open standards, Manaslu can be integrated in any studio environment based on file-based workflows. Manaslu reduces time-to-market to a minimum and can be used in classic broadcast environments as well as in the fast-growing OTT sector.

Infinity
With Infinity, Qvest Media launches a cloud-based compliance recording system. Infinity's modular and service-based architecture enables flexible recording of broadcast signals and webstreams. The product enables the creation of scheduled and permanent recordings that can be conveniently viewed and downloaded in a web browser.

Fusion
As a brick-controller middleware, Fusion simplifies the processes for program planning between newsroom and automation systems. With its vendor agnostic design, Fusion minimizes the complexity of integration and the time required to design news productions.

Qvest Media presents its new product line-up as well as current media projects in the areas of consulting and systems integration at stand 3.B40 at IBC in Amsterdam.
Top Related Stories
Click here for the latest broadcast news stories.