Broadcast News
21/08/2019
ARRI Announces New Line Of External Radio Modules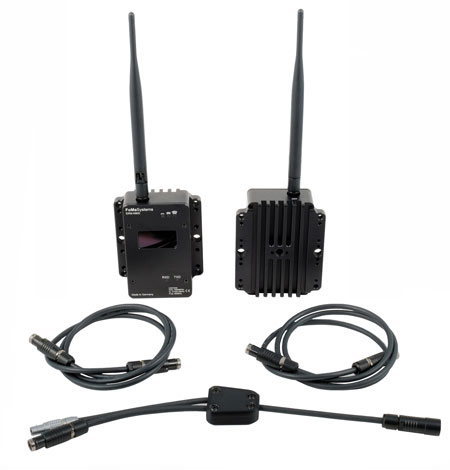 ARRI has announced a new line of External Radio Modules (ERM) for remote operation of the brand's SRH-3 stabilized remote head.
Available in two frequencies, the ERM-900 and ERM-2400 are perfect for use in all production situations including drones, helicopters, or with cable cam systems.
When paired with the ERMs, the SRH-3 system will change from the built-in fixed channel radio module to the channel hopping based ERM's radio communication. More channels will ensure greater reliability and more range. The option of choosing between the internal or external radio modules always ensures the best possible wireless connection, depending on the situation or limitation.
Simple to integrate, the new ERM-900 and ERM-2400 connect via the FS CAN Bus cable to the SRH-3 remote control panel and the stabilized remote head. After an initial configuration, the modules power up and automatically set into transmitter and receiver mode. To reach the maximum range, the ERM transmitter module should be mounted to a mast or an elevated stand between 2 – 5 meters tall (6 –15 feet).
ERM-900: Sold exclusively in the United States and Canada, the new ERM-900 allows users to reliably operate the SRH-3 stabilized remote head at distances of up to 5,000 meters (3.1 miles).
ERM-2400: The new, versatile ERM-2400 is a major upgrade to the existing 2.4 GHz radio. The ERM-2400 is a 2.4 GHz module that allows users to reliably operate the SRH-3 head from a range of up to 1,000 meters (3,280 feet) The new ERM-2400 is CE and FCC certified for use in Europe, the US, Canada, and Japan.
The ERM-2400 operates in the same frequency band as the existing internal wireless radio in the SRH-3 with significant performance improvements.
The ERM-2400 leverages channel hopping technology to vastly increase range and reliability. In environments such as broadcast or live event production where channel hopping is prohibited and management is present, the built in 2.4 Ghz radio in the SRH-3 is recommended.
Both the ERM-2400 and the ERM-900 are available for immediate order.
www.arri.com
Top Related Stories
Click here for the latest broadcast news stories.