Broadcast News
14/08/2019
Shure Launches The VPH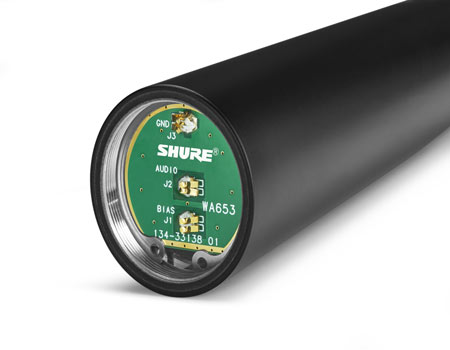 Shure has launched the VPH - a long microphone handle for on camera interviews and reporting that features the flexible Shure RPW interchangeable cartridge interface and convenient XLR connectivity, for easy connection to broadcast mixers and recorders.
From the stadium to the red carpet, live reporting demands the best from you and your audio equipment. On-camera reporting changes drastically from situation to situation and the broadcast industry expressed a need for a cardioid microphone with a longer handle for live interviews in noisy environments.
Loud, side-line sports interviews call for one type of microphone while capturing superstar sound bites amidst a dozen other reporters at a chaotic awards show, might call for another.
With VPH, you get to choose from a wide variety of high-quality Shure wireless interchangeable capsules that offer different polar patterns and sonic characteristics to match your situational needs. Polar patterns include cardioid, supercardioid, hypercardioid, and omnidirectional by way of PG58, SM58, SM56, SM87, Beta58, Beta57, VP68, KSM8, and KSM9 cartridge options. External phantom power is necessary to power the VPH.
Stuart Moots, Associate Director, Pro, commented: "At Shure, we are continually responding to the needs of the market, and the new VPH long-handled microphone is a perfect example of this process in action. Our customers asked us to bring the flexibility of interchangeable wireless capsules into a wired microphone product, making it simple to switch between different polar patterns or from dynamic to condenser. The broadcast market is of the utmost importance to Shure, and we're pleased to say capsules such as the KSM8 have proven exceptionally popular in this market thanks to its near-zero proximity effect. The long handle of the new VPH now brings the KSM8 capsule into a form factor that is suited to broadcast production."
www.shure.co.uk
Top Related Stories
Click here for the latest broadcast news stories.