Broadcast News
01/09/2017
Gearhouse Broadcast Involved In Shure Radio Microphone Platform Launch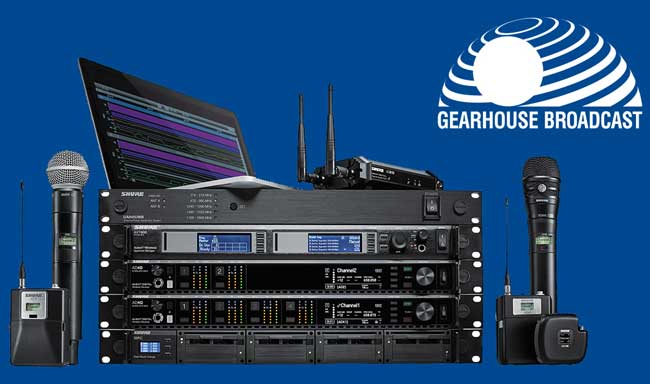 Gearhouse Broadcast has launched the new Shure Axient Digital radio microphone platform.
The company's Australian-based, in-house Event Communications division deployed the system that provides sporting bodies, production companies and large venues with RF performance. Following its debut, the Shure system has already been adopted by the AFL (Australian Football League) for use at all of its games across the country.
Shure's Axient Digital incorporates wireless audio technology and delivers signal stability and audio clarity, plus flexible hardware options, advanced connectivity, and comprehensive control. Both of Shure's AD series and ADX series transmitters are compatible with a shared Axient Digital receiver platform and this scalable wireless system also includes a micro-bodypack.
Jason Owen, Manager of the Event Communications division at Gearhouse, said: "Shure and its Australian dealer Jands approached us to discuss how they could further assist our already rapid growth in Australia. It began with us signing an exclusive R&D partnership which gives us direct access to their product road map and input on future feature sets and product design. At that point, having seen the success of our SportsCom custom intercom solution in the market, they also offered Gearhouse Event Comms the opportunity to become the world's first user of their incredible Axient Digital radio microphone platform."
He continued: "Axient Digital is perfect for sporting bodies, large venues and production companies so we immediately approached the AFL in Australia and suggested they use the system at all remaining games this year. I have long been a fan of Shure kit in the live production space, however when I saw and heard Axient Digital I knew it was a gamechanger. It really stands head and shoulders above other systems. Its outstanding RF performance in even the most complex, crowded environments ensures maximum stability, improved range even in high noise-floor venues. There's also dual and quad receiver options that open the gateway to the full range of features, from high-performance RF and transparent digital audio to software control."
Shure, Jands and Gearhouse worked closely together on the Axient Digital system, with Gearhouse providing the custom communications solutions, Shure the technology input and Jands' product support.
www.gearhousebroadcast.com
Top Related Stories
Click here for the latest broadcast news stories.