Broadcast News
06/01/2015
Pharrell Uses Shure Wireless Microphone On Concert Tour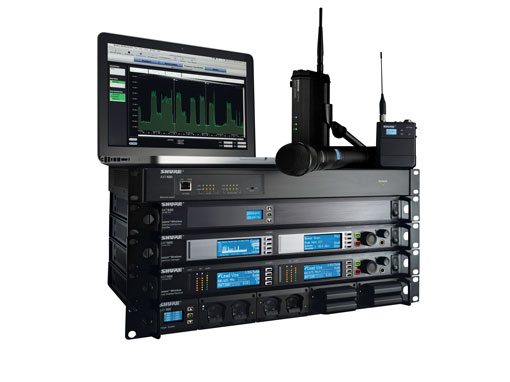 Producer and singer-songwriter Pharrell Williams made extensive use of Shure wireless microphone and in-ear monitoring systems on his concert tour this Autumn.
The six-week 'Dear G I R L' tour ran from September to October and took in major venues in Western and Central Europe, including the UK's O2 Arena.
Shure's Axient wireless microphones and PSM1000 in-ear monitoring systems, as used on the European dates, were sold by Shure Distribution UK, and supplied by Wigwam Acoustics in Heywood, Greater Manchester.
Pharrell's regular monitor engineer Jeremy Peters informally approached US-based RF Engineer and Stage and Microphone Tech Matthew Bock, of Nashville audio technology vendor Sound Image, early in 2014 for advice about which wireless systems to use on the live dates that were then being planned in support of Pharrell's successful 'G I R L' album. Bock, who has worked with acts such as Taylor Swift, Brooks & Dunn, and Jimmy Buffett, had no hesitation in recommending Shure's Axient, on which he had undergone Shure training and certification when the product was released.
Pharrell had played the two-week-long Coachella festival in the States in April and had endured continual RF interference during the first week, which resulted in the crew resorting to using wired microphones for much of the band. After that, there was a determined effort among the tour crew to improve the wireless systems, as Jeremy Peters explains.
Bock specified six channels of Axient, two for Pharrell's vocals (one main and one backup, both running in Frequency Diversity mode), two for main support vocalists, and two guest vocal channels. 10 channels of PSM1000 in-ear monitoring were also used for the members of Pharrell's band, with Shure's UHF-R wireless microphone systems supplying four more channels for supporting instruments.
Following successful one-off dates in the US, Sound Image was asked to provide the systems for Pharrell's main European tour in the Autumn. In order to ensure that the wireless systems were correctly specified for use in Europe, Sound Image approached Wigwam Acoustics' parent company SSE, with whom they had previously worked in the UK, to supply an exact copy of the wireless equipment used on the US dates. Wigwam supplied the equipment; Shure Distribution UK fulfilled the order and carried out tech support for the tour as it moved around Europe.
"RF interference is such a problem at live venues now," explained Matthew Bock, "and the situation is only going to get worse around the world as more and more spectrum is given over to mobile communications over the next few years. My experience of using Axient in the past had shown how reliable and resistant to interference it was, so that was my recommendation to Jeremy Peters.
"It was also because I really rate the Axient spectrum manager, the AXT600, and Shure's Wireless Workbench management software, which I use with wireless systems from Shure and other manufacturers. Using those has allowed me to plan for the worst-case scenario in each venue — and then if it's not so bad when you actually get there, you're as prepared as you can be. That's really my watchword: plan for the worst, hope for the best.
"Some of the venues were very noisy in RF terms. In one country, I decided to use the PSM1000s in 100mW high-power mode, and I had to get special licences for that. That limited me to certain carefully defined frequencies for those, but I was able to ring-fence those by using the inclusion groups feature in Wireless Workbench, and then tuning all of the other wireless equipment to different frequencies around the in-ears. That was a really cool feature that I haven't been able to use with other programs I've used for wireless coordination.
"And in Italy, where I've had RF noise problems in the past, I was able to put the Axient transmitters in high-power mode, and pad the inputs down on the Axient AXT630 Antenna Distribution system to lower the RF noise floor. Axient was really useful there, in terms of making the most of the available RF spectrum."
Sound Image is now on board for Pharrell's forthcoming US live dates.
www.shuredistribution.co.uk
(CD/JP)
Top Related Stories
Click here for the latest broadcast news stories.