Broadcast News
19/02/2019
IP – Are We There Yet?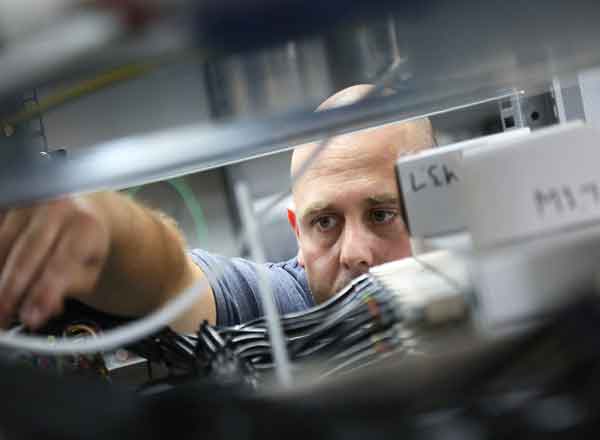 IP networks are increasingly seen as the future for end-to-end broadcasting. Although computers and networks have been used in broadcast for a long time, getting the full potential benefit from IP networking means moving away from SDI interconnects, and adopting an architecture built entirely on IP networks.
The SMPTE ST 2110 suite of standards is a step towards this common IP mechanism. The standards specify the carriage, synchronisation, and description of separate essence streams for real-time operation throughout the broadcast chain. Products based around IP infrastructure are already available: at the IBC and NAB shows last year, more than 60 vendors participated in the IP Showcase according to SMPTE. dB Broadcast expects that ST 2110 will be the industry standard within the next 3 to 5 years.
Obvious advantages of an IP network system are the reduction in cabling and connections required. But the real prize comes from a full 'IP-first' approach, as this allows the flexibility for completely new ways of working, free from the constraints of current technologies. Content, resources, even whole facilities could potentially be assigned dynamically. Some operations can be performed across buildings or even across countries - it may become unnecessary to have an OB van at a sports event, for example.
Facilities may be scaled more easily as requirements change. Of great importance today is the ability to adapt for future formats such as Ultra HD, including 4K, 8K, and high dynamic range (HDR) imaging.
IP is expected in the medium term to become the lowest cost model. This is due to adoption of standard (COTS) hardware, and the ability to deploy generic platforms with a distributed routing core.
However, certain challenges remain, perhaps most fundamentally with the adoption of the new standards, and this is as much an issue for vendors investing in development of their next range of products as for broadcasters looking to commission future facilities. For instance, in audio over IP, AES67 has led the way but it isn't the same as ST 2110-30. As a result, interoperability has yet to be fully proven.
New sets of skills are required to deliver and support IP infrastructure, requiring special attention to recruitment and training. The ever faster pace of technology change implies that the life cycle of IP systems will be considerably shorter than we're used to, perhaps three to five years compared with ten or more for traditional technologies. Greater engineering resources can be needed to support delivery of IP. And of course, as with all IT systems, there is a small but definite cyber security risk.
So what has dB Broadcast learned from its experience designing and implementing large IP systems? SDI still has a place. In a recently completed commercial studio installation, the latest iteration of SDI was deployed - capable of handling 12Gbps of data on a single coaxial cable. The decision to stay with SDI was motivated by the wish to utilise existing skills, and to avoid the need for extensive retraining in new techniques. However, with an IP approach, there is no need for a backup SDI Infrastructure, though an SDI emergency cut router is a wise precaution.
Structured wiring works well, but only if it is well planned out in the first place, especially switch port harnessing. Also, MPO-connected fibre cabling is expensive and not as robust as traditional cabling solutions.
Finally, and perhaps most crucially, is the need to build a proof of concept system which can later be used as a test facility, proving interoperability in dynamic testing. As the UK's leading SI, dB has always used this approach, and the company keeps up to date with all the new technologies to provide its clients with the most up to date and best informed independent advice.
www.dbbroadcast.co.uk
Top Related Stories
Click here for the latest broadcast news stories.