Broadcast News
30/01/2019
MagStor Releases LTO Migration Unit With Thunderbolt 3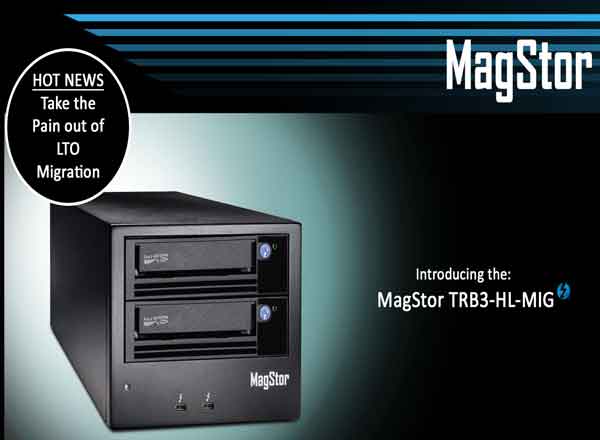 Whilst some are turning to the cloud for storage / archive for many, LTO Tape is still the most viable and cost effective choice.
With most cloud options utilising LTO tape for their deep and long term storage also, it's easy to see why LTO is still very much the go to medium.
LTO-8 is now readily available with a capacity of 12TB uncompressed and 30TB compressed however, to increase the tape capacity the drive heads and tape technology has changed. The LTO consortium rule of backwards compatibility, reading back from two generations and writing back to one generation has been broken. Unfortunately LTO-8 can only read and write to LTO-7 tape.
We're told future generations of LTO Tape will revert back to the old rule of providing backward compatibility for two generations and in the long run will provide a better storage and archive medium. For the short term though, what do you do with the data you have on LTO-6 tapes? Tapes you may have been planning to move across to LTO-8.
Moving data from LTO-6 to LTO-8 will definitely be more beneficial, not to mention with a much larger capacity it will be a space saver.  
To help ease and take the pain out of migration to LTO-8 tape Polar Graphics are pleased to announce the launch of the TRB3-HL-MIG from MagStor.
A neat desktop unit which provides proper LTO drive orientation (horizontal) with 1x LTO-6 drive and 1x LTO-8 drive. Migration has NEVER been easier or more compact.
This unit will allow customers with LTO-4/5/6 backups and archives to easily migrate to LTO-7/8.
The process can be made even simpler by using a third party software such as myLTO and or PreRoll Post, both from Imagine Products and also available through Polar.
Once migration is complete the 1x LTO-6 drive can be replaced with an LTO-8 drive, providing you with a dual drive LTO-8 unit.
www.polar-graphics.com
Top Related Stories
Click here for the latest broadcast news stories.