Broadcast News
13/08/2013
Cache-A Launches Simul-Copy At IBC™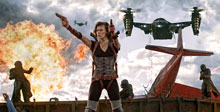 Archiving specialists Cache-A Corporation has announced the availability of Simul-Copy™, a new LTO-tape duplication and verification capability.
"Cache-A has brought Simul-Copy to market in direct response to the media and entertainment industry demand for digital video content to be rapidly and securely archived to multiple LTO-tape copies as soon as possible after origination," a statement from the company said.
Simul-Copy will be showcased om Cache-A's stand at this year's IBC show in Amsterdam (Hall 7.A04).
"Safeguarding content is a chief priority for completion guarantors, production companies and post production houses today," said Jim Totman, sales director of UK reseller XTFX, which specifies camera-to-post workflows on features and TV shows.
"With Simul-Copy, Cache-A has broadened the LTO safety net. The ability to make simultaneous, duplicate LTO-tape copies delivers huge time-savings and greater levels of reassurance that content is properly protected."
Simul-Copy speeds-up the delivery of LTO-tape copies for production, post production, working archive and offsite disaster recovery. It is is suitable for longform projects that can produce several Terabytes of RAW camera data every day.
It enables users to simultaneously make multiple tar or LTFS LTO-tapes copies, rather than sequential copies, at close to the same speed as a single copy. It works with Cache-A's LTO-4, LTO-5 and latest LTO-6 generation appliances.
Source content, on network-attached volumes (SAN/NAS), direct attached storage devices, or Cache-A's own RAID, needs to be only read once to be written to multiple tapes simultaneously.
Using Simul-Copy, Power-Cache systems can create up to four simultaneous LTO-tape copies, while Pro-Cache models can create two simultaneous LTO-tape copies. These copy drives can be in Cache-A's Library24 and Library48 accessories, in rackmount expansion chassis, or in Cache-A's newly released LTO-Sidecar expansion drive.
"One of the biggest challenges we face is dealing with, and being responsible for, vast amounts of data. On major productions this can easily amount to a couple of Terabytes per day for the duration of the shoot," said Andy Hunter, owner and Flame artist at REDLab Digital, whose company has provided post and archiving services to Sony Pictures' 3D stereo motion pictures Resident Evil: Retribution and Pompeii.
"Traditionally we have run 24/7 making dual LTFS LTO copies back-to-back of the day's RAW camera footage. However, Simul-Copy on Power-Cache6 has slashed the delivery time in half, as we can now make two LTFS LTO-6 copies simultaneously. It's a rock-solid capability saving us many hours, providing greater security to our clients and the larger capacity of the LTO-6 comes in very handy too," said Hunter.
"We have over 80,000 pieces of original audio and video media going back over 40 years and, as we ingest, we're protecting it on dual LTO-tapes stored at separate Hollywood locations," said Richard Price of NOW Productions, which uses Simul-Copy on Power-Cache, plus several Pro-Cache units, in its archiving and original media workflows.
"The beauty of Cache-A's Simul-Copy is that while I am archiving to two LTO-tapes in tar format at the same time, I can also upload my next project to the Power-Cache. Simul-Copy is a major, time-saving step forward for us, and shows Cache-A's deep understanding of the tools media professionals really need today."
www.Cache-A.com
(IT/JP)
Top Related Stories
Click here for the latest broadcast news stories.