Contact:
Peter Rowsell (Managing Director)
Address
Joel Street Farm,
Joel Street,
Middlesex,
Pinner,
HA5 2PD,
England

About Polar Graphics
Polar Graphics are exclusive distributors for a number of hardware and software products for the film, television and audio visual industry.
Amongst these products are:
Digieffects - special effects plugins


Tinderbox - special effects plugins


Ultimatte - blue/green screen compositing hardware for real time applications and Ultimatte software for rendered applications


Digital Voodoo and Bluefish - 10bit SD SDI & HD SDI capture cards for Mac and PC


Medea Corporation - high speed disc arrays


Huge Systems - High speed disc arrays


iMatte - masking and interactivity for the projection/presentation market


Polar converters - digital/analogue converters
Polar Graphics has been importing and distributing products for the film, TV and Multimedia industries for over 10 years - however, its history goes far beyond that. Many of you may recall Polar Video. You may even remember the notorious Polar/VME IBC parties at the Subterfuge club and Pink Coconut in Brighton. Well, Peter Rowsell, who is the MD and founding member of Polar Graphics, was a partner in Polar Video and largely responsible for those manic evenings.
Peter started his career at Eclair Debrie and Rank Film Equipment selling lighting, film cameras and then later moving into the fledgling video industry. Peter built upon his experiences in the film markets to establish a European network of resellers for Convergence Corp, who manufactured the first linear joystick operated editor in the world. Subsequently, he joined forces with Fred Smith to form Polar Video and established a worldwide distribution network for their products.
Peter started Polar Graphics in 1994 and his decades of experience in sales, marketing and manufacturing has led to a successful distribution company with strong relationships with both manufacturers and dealers alike. Starting with Ultimatte products and then taking on BorisFX and Digieffects it was obvious that the market was moving heavily into non-linear Digital production. This generated the need for Polar to spread its wings and hence the introduction of Digital Voodoo/Bluefish444 and Medea products. Most recently, the introduction of Huge/Ciprico and G-Tech products have complemented the line-up.
Polar's main aim is to have an exclusive range of non-competitive products and to distribute those products through their UK and European dealer network. It is Polar's policy that all products are sold through their dealers - this gives dealers the confidence that they can work with Polar, knowing that we will not try to take customers from them. At the same time, we have always been happy to talk to end-users direct, providing the highest calibre technical service to our dealers and their customers.
Twitter Feed

Facebook Feed
Company News
09/02/2018
The Future For LTO Tape Is Bright
---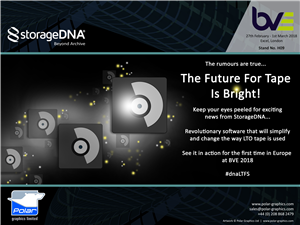 Keep your eyes peeled for exciting news from StorageDNA...
Revolutionary software that will simplify and change the way LTO tape is used
See it in action for the first time in Europe at BVE 2018.
This could revolutionise your workflow.
13/04/2017
PRESS RELEASE: Studio Network Solutions Appoints Polar Graphics as European Representatives
---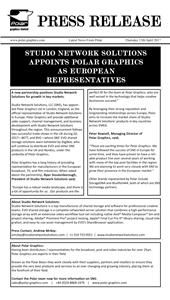 A new partnership positions Studio Network Solutions for growth in key markets.
Studio Network Solutions, LLC (SNS), has appointed Polar Graphics Ltd in London, England, as the official representative of Studio Network Solutions in Europe. Polar Graphics will provide additional sales support, channel management, and business development with Studio Network Solutions throughout the region. This announcement follows two successful trade shows in the UK during Q1 2017—BETT, and BVE—where SNS' EVO shared storage solutions were exhibited by DigiBox, who will continue to distribute EVO and other SNS products in the UK and Nordics, under the umbrella of Polar Graphics.
Polar Graphics has a long history of providing representation for manufacturers in the European broadcast, TV, and film industries. When asked about the partnership, Ryan Stoutenborough, President of Studio Network Solutions said, "Europe has a robust media landscape, and there is a lot of opportunity for us. Our products are the perfect fit for the team at Polar Graphics, who are well versed in the technology that helps creative businesses succeed." By leveraging their strong reputation and longstanding relationships across Europe, Polar aims to increase the market share of Studio Network Solutions' products in key countries across EMEA.
Peter Rowsell, Managing Director of Polar Graphics, said, "These are exciting times for Polar Graphics. We have followed the success of SNS in Europe for some time, and they have proven to have a reliable product line over several years of working with many of the top post facilities in the region. We are planning to work very closely with SNS to grow their presence in the European market."
Other brands represented by Polar include StorageDNA and Bluefish444, both of which are SNS technology partners.
About Studio Network Solutions:
Studio Network Solutions is a top manufacturer of shared storage and software for professional creative teams. EVO shared storage is a complete networked server solution that combines a high-performance storage array with an extensive video workflow tool set including native Avid® Media Composer® bin and project sharing, Adobe® Premiere Pro® project locking, Apple® Final Cut Pro X® library sharing, cloud integration, and easy-to-use asset management by EVO's ShareBrowser application.
Press Contact, Andrew McKay:
amckay@studionetworksolutions.com
+1 314 733 0551
www.studionetworksolutions.com
About Polar Graphics:
Having been distributors / representatives for the broadcast, post and video industries for over 25yrs Polar Graphics are experts in their field.
Known as the Polar Bears they work closely with their suppliers, partners and resellers to ensure they provide the very best products and services to an ever changing and growing industry, placing them at the forefront of their field.
Contact the Polar team now for more information on SNS:
sales@polar-graphics.com
+44 (0)20 8868 2479
www.polar-graphics.com
Come and see us at NAB 2017 to see how SNS could help your workflow
https://goo.gl/Dc4H0G
10/02/2017
Plan Your Visit For BVE 2017: Don't MISS OUT Visit THE Polar Bears Of Polar Graphics
---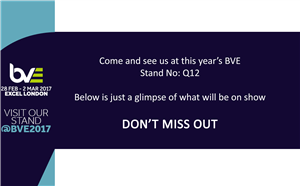 Visiting BVE 2017? Ensure you don't miss out on visiting the Polar Bears, Stand No. H09
"The Bear Essentials for Media and Entertainment"
Polar's portfolio is vast and comprises of solutions to aid / develop any workflow from: Ingest to Store to Archive. Placing Polar at the forefront of their field.
The team will be available at BVE 2017 to discuss all the products in our range which includes:
StorageDNA: Revolutionary Storage Architecture
Bluefish444: Best of the Best video cards, with nothing beyond their capture
Apantac: The no compromise multiviewers and converters
Stardom: The RAID you can rely on, whatever your workflow
Mediaproxy: Software-based broadcast and IP monitoring, analysis and compliance all in one place
Visit: https://goo.gl/w0WM8q for more info
Location of Polar Graphics

G-Technology's roots are deeply ingrained in delivering premium storage solutions for audio/video production, photography and the professional content creation market. From storing, transferring, editing and distributing content, G-Technology makes the workflow simpler, better and faster.