Broadcast News
14/04/2014
LTO: More Than Just Archiving...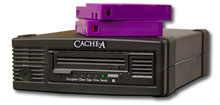 The latest advances in LTO-tape make it a suitable platform on-set for delivery, cloud storage and more, according to specialists Cache-A.
With trends like 4K and 3D stereo still going strong, companies in the media and entertainment industry are having to archive ever-growing volumes of digital content. LTO tapes, promising a shelf-life of over 30 years, have become a proven archive standard for a whole range of camera and post production media formats.
Additionally, the widespread adoption of the LTFS (Linear Tape File System) format means that LTO tape can behave and be accessed more like a disk drive in digital media workflows. All of this adds up to great news for companies whose business plan is to provide safe and flexible ways for customers to use LTO-tape throughout production and post-production.
"When we started Cache-A, for the most part, Hollywood production and post facilities who needed to move digital content off of their SANs would move it to hard drives and put them in a drawer," recalls Mark Ostlund, vice-president of marketing and sales of archive appliance manufacturer Cache-A. "A lot of people who have done that have lost content, because HDDs are only viable for about five years and, in fact, the signal can fade in as little as one year. But, if we can't put precious assets on hard drives, and spinning disk is just too expensive, what is the best long-term, archive-quality media? The industry has voted and said it's LTO-tape."
A driver behind the increasing adoption of LTO is the LTFS format, introduced in 2010. Because LTFS enables tapes to act like disks, LTO can be treated like a nearline storage medium. This means that whilst LTO is used for long-term archiving, customers are also using LTO every day to move material off spinning disk, saving both capacity and space, and are able to find and retrieve material quickly and easily when they need it.  
Modular Scaling Archives
As customers are watching their archival needs grow, Cache-A has responded accordingly with the Library 80+ Expansion Option, a new LTO archive that is scalable in 200TB modules, set for an NAB 2014 launch. The 6U, rack-mountable Library80+, can hold up to 80 LTO-5 or LTO-6 tapes, increasing archive capacity to 200TB.
However, Cache-A has plans to exploit the modular design of the appliance, which allows it to be easily scaled in 80-tape increments, to a total of 560 tape-slots, around 1.3PB uncompressed.
"The growth-rate of data is exponential, with forecasts between 40 to 45% year-on-year. That's a huge amount of data to both protect and keep track of," said Ostlund. "The Library80+ addresses requests from customers who have larger archive needs. It meets their short-term archive and disaster recovery data protection demands, as well as long-term archival requirements. The ease of scalability means that upgrades are fast and non-disruptive too."
Hub & Spoke Delivery
Beyond archiving, LTO is increasingly functioning as a deliverable format in its own right. Cache-A sees customers starting to enjoy new efficiencies with 'Hub and Spoke' delivery models, in which remote content creators provide LTO deliverables to larger media companies at the hub.
Some customers still want tar deliverables, especially if they originally specified their delivery requirements before the arrival of LTFS, but Ostlund says the momentum is with LTFS.
According to Ostlund, Discovery Communications has three different specs for broadcast deliverables on LTFS tape. One of those is for camera source material, another is for graphics and post-production and a third is for programmes. All of them are legal LTFS tapes, but with different arrangements of files and metadata, such as MD5 checksums for every graphic stored in a special file in the tape's index partition.
"This arrangement allows them to load up the programmes or specific files they know are going to go into the final programme, but also to keep all of the source footage that was generated. We have been told that 100 to 1,000-hours of footage is generated for every hour of programme that goes on air. That's a lot of content they're keeping in their facility, and they don't have to actually load it and copy it and spend all that time archiving it."
Copies In The Cloud
Another benefit of LTO is that it's easy to make a perfect duplicate copy for safe-keeping or transport. "You can make a copy extremely fast in a portable format and use that to populate a data centre, deep archive, or the cloud," says Ostlund. "If someone wants or needs cloud archiving capability, LTO can be used to feed that. Up until now, cloud storage has pretty much been seeded with hard drives, but there's quite a bit of conversation about LTO moving into that space."
Ostlund notes that the use of LTO tape on-set is often a pre-requisite of bond companies. "A lot of insurance companies underwriting high-end film productions require that LTOs are produced on-set," he says. "Some of them are saying they don't want more than 15 minutes of footage in the camera at one time."
In total, more than 200 million LTO cartridges have shipped, along with over 4 million LTO drives since the official launch in 2000. "We're now using technology in the media and entertainment industry that has economies of scale, and that increases the futureproof security of the format," says Ostlund. "In other words, you should be easily able to find an LTO drive in 15 or more years from now."
The article is also available in the online edition of RFV
here
.
(IT/JP)
Top Related Stories
Click here for the latest broadcast news stories.