Broadcast News
21/01/2019
ATG Danmon To Exhibit Range Of Systems Integration Services At BVE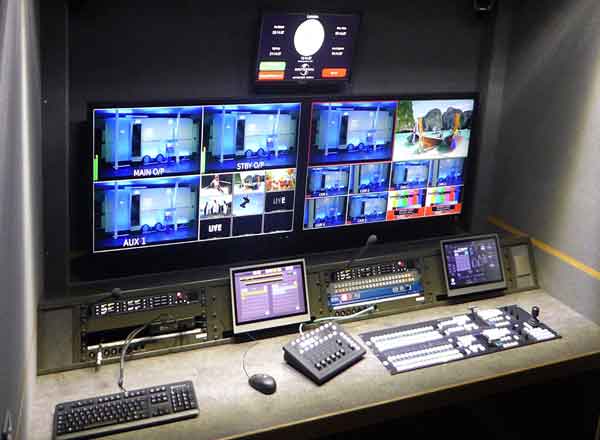 ATG Danmon will exhibit its full range of systems integration services on stand G30-6 at BVE 2019 in London's ExCel, February 26-28.
These include consultancy, project planning, workflow design, system installation, testing and commissioning, documentation, training and technical support.
"BVE has proved a useful venue over the years for meeting existing customers and making new contacts," said ATG Danmon Managing Director Russell Peirson-Hagger. "We will be promoting our skills as a project management partner with proven experience in all aspects of systems design, implementation, testing and post-installation maintenance.
"A key strength of ATG Danmon is its ability to recommend and deliver the best possible solution for each project, based on hands-on experience over many years combined with ongoing study of new technical and operational trends. That experience embraces hybrid SDI/IP infrastructures, cloud-based workflows and storage, and virtualisation. We are also able to draw on the capabilities of partner companies within the Danmon Group to create solutions for every element of the media chain. Our capabilities extend to OB vehicles as well as flyaway systems that can operated from practically any location.
"The operational possibilities increase with every passing year as technology becomes available to incorporate into our designs. One example is a portable system which is recording 4K raw video for a client who recognises that capturing at the highest possible production quality allows great flexibility in the use of the material."
Recent ATG Danmon projects have included the design, supply and integration of equipment into two news studios and a news presentation room for the School of Journalism at one of Britain's leading universities. The facilities simulate the functionality and processes of a real broadcast environment, the output being used for academic review.
For BBC Scotland in Glasgow, ATG Danmon modernised a television gallery assigned to the production of bulletin-style news programmes. Careful co-ordination was vital to ensure the daily broadcast schedule could continue as normal.
In Q3 2018, ATG Danmon was selected to design, assemble and integrate two mobile video production systems for one of Europe's longest established parliamentary television channels. These allow recording and live broadcasting from the various committee rooms located within the government buildings. The units replaced old-technology 625-line equipment and allow proceedings to be televised in 1080i.
One of Europe's most prestigious stage production theatres commissioned ATG Danmon to design and integrate a media asset management and archive system. The theatre records many of its performances for relay to viewing theatres around the world. The new installation includes a digital server which will be used for ingest, post production and playout."
ATG Danmon also finalised a storage system for a London-based training centre, enabling its creative media team to archive and access very large amounts of video content quickly and efficiently. Occupying just 4U of space, the system's 16 bays can accommodate 80 drives.
Newsroom upgrade and virtual studio tracking projects are now in progress, plus a production studio for one of the country's most leading social media video specialists.
www.danmon.com
Top Related Stories
Click here for the latest broadcast news stories.