Broadcast News
09/09/2015
Danmon Group, Systems Adds Transmitters To Live Video Interview Vehicle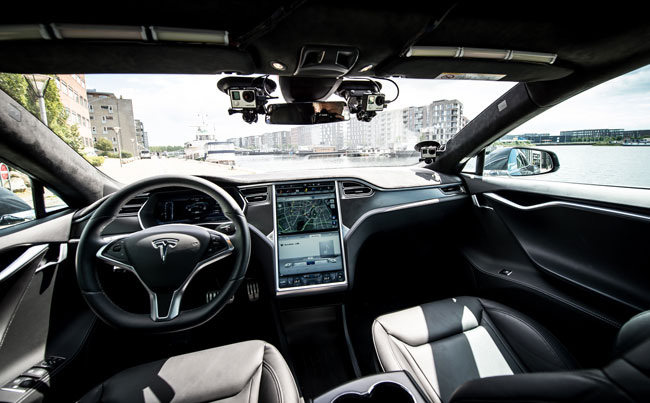 Danmon Group, Systems has teamed up with Danish television network TV 2 | DANMARK to incorporate high-quality, two-way live video and audio transmission facilities into a saloon car as the basis of a live video interview vehicle.
"We were looking for a new way to cover the Danish general election," comments TV 2 | NEWS editor-in-chief Mette Østergaard. "We felt much more dynamic coverage could be obtained by placing two candidates with differing opinions into a car and linking them wirelessly to a studio-based interviewer. The new setup contributed to incisive political debate rather than the rehearsed responses politicians often give in traditional studio interviews."
"The credit for this very creative idea belongs entirely to the TV 2 | DANMARK production and engineering teams," adds Peter Thomsen, Deputy Managing Director of Danmon Group, Systems. "They made very efficient use of miniature cameras and ultra-compact post-production equipment to turn the concept into reality. Our role was to add a two-way live transmission link that could be relied upon to operate effectively and securely anywhere on the Danish mainland.
"An Aviwest video contribution uplink system which allows high quality video and audio communication over the cellular telephone network was supplied by Danmon Group, Systems. We incorporated into the vehicle two transmitters each configured with eight SIM cards. Four antennas were attached just above the rear window for optimal signal reception. Video and audio plus a multiview feed are transmitted to the production control room at TV2 Odense. Additionally and simultaneously, the production is streamed and controlled via the 4G network.
"The system is excellent in its performance, including live transmissions throughout a journey from the far north of Denmark all the way to Copenhagen. It is also much more power-efficient than traditional baseband transmission links."
Image: The interior the TV 2 | DANMARK live video interview vehicle.
www.danmon.com
www.tv2.dk
(JP)
Top Related Stories
Click here for the latest broadcast news stories.