Broadcast News
29/04/2016
Rotolight Launches ANOVA PRO LED Studio/Location Light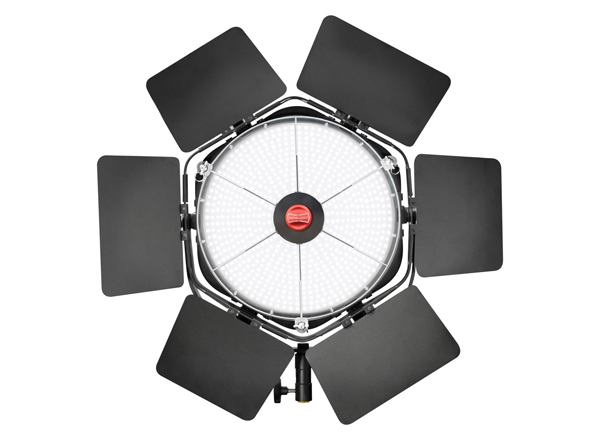 Rotolight, have announced the launch of the Rotolight ANOVA PRO – the ultimate LED studio/location light designed for the most demanding of professionals.
Now 10% lighter, with a new Flash Sync Trigger input, redesigned electronics and 25% more LEDs makes ANOVA PRO up to 43% brighter than the V2 Anova plus the ability to flash at up to 300% brightness.
The Anova Pro includes four unique innovations: CineSFX, Flash Sync, True Aperture Dimming, and Designer Fade which are set to revolutionize the industry. The Rotolight Anova Pro starts from just £999ex/$1,499 and is available now for immediate pre-order, shipping June 2016.
Anova Pro's Bi-Colour LED system with AccuColour LED Phosphor technology delivers exceptional colour rendering (CRI:96+), and a powerful output (up to 6545 Lux at 3 feet), whilst using 94% less energy than a standard tungsten bulb.
Now featuring dual controls for fast, tunable colour and brightness control, along with an accurate colour temperature display (CCT), DMX and V-Lock battery operation as standard. Wifi operation will also be available using the optional ANOVA 'AIR' WiFi module (Available Q4) Anova PRO represents the pinnacle of LED technology, with four unique innovations:
CINESFX
: Provides an powerful arsenal of customizable Lighting FX (CineSFX) for television/production/feature film applications on set or location (Strobe, Lightning, Fire, Cycle, Throb, Police, TV, Spin, Weld, Spark, Film, Neon and Gunshot). Includes wired remote trigger functionality and wireless control (WIFI models only), along with rolling shutter compensation. CineSFX eliminates the need for legacy 'flicker box' workflows, saving significant time and cost to achieve powerful lighting FX.
FLASH SYNC
: Flash Sync and remote triggering allows Anova Pro to be integrated into a traditional photography workflow, whilst providing a hyper-accurate modelling light, along with control of flash power/duration colour temperature and offset, combining the advantages the best of both legacy strobe technology and continuous 'shoot what you see' light output.
TRUE APERTURE DIMMING
: Calculates and displays the correct aperture (F-Stop) for your subject at a given distance, revolutionizing your work flow by eliminating the need for metering. Alternatively, dynamically adjust your brightness level, to work at your desired aperture (F-Stop).
DESIGNER FADE
: This mode provides custom fade up/fade down interview/production effects for DSLR videographers and creative cinematographers, reducing time required in post production.
Commenting on Rotolight's CineSFX mode, Stefan Lange, Visual FX veteran, said: "The CineSFX mode that's built into the Rotolight Anova PRO is an advantage to any production. It's fast – it doesn't matter if it's a feature, a drama or a documentary, its always going to come out and fill that little bit of, and add that little effect. There isn't a job I wouldn't take it on."
Rotolight's award-winning Magic Eye iPhone/iPad App for the Anova PRO LED Floodlight, provides a simple user interface and advanced feature set, that enables wireless remote control and triggering of and trigger CineSFX modes, as well as real time brightness, colour temperature and system settings of Anova Pro and third party DMX light sources. Available separately from the app store Q4 2016 (WIFI models only).
The Guild of Television have recognized ANOVA with its prestigious 'Seal Of Approval' award, the first time in its history it has been given to a lighting manufacturer.
rotolight.com
(MH)
Top Related Stories
Click here for the latest broadcast news stories.