Broadcast News
08/01/2018
Dancing On Ice Shines With Rotolight's Anova PRO 2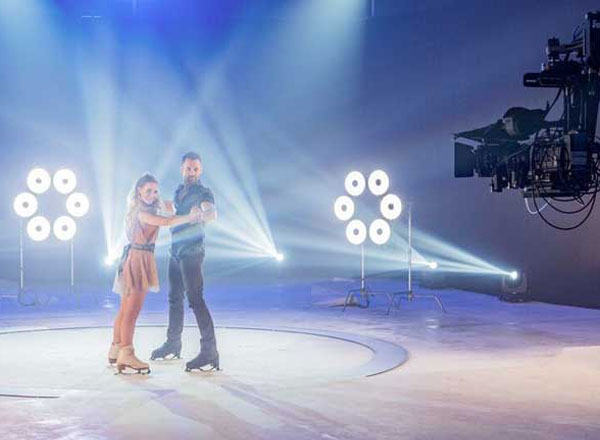 Rotolight has supplied its new Anova PRO 2 location and studio lights for the new series of Dancing On Ice as it returned to ITV on Sunday night.
The lights, 30 in total, were provided in five custom-designed rigs for the filming of the TV idents, glamour and profile shots. The rigs each featured six lights mounted in a large ringlight configuration.
David Sutton, VT director who has worked on I'm A Celebrity… Get Me Out Of Here!, The X Factor and Strictly Come Dancing, needed a different, unique look for the shots to mark the show's return.
He explained: "We wanted something new, fresh and original for the relaunch of Dancing on Ice, something that was visually different and interesting. What we were looking for was obviously the performance and functionality of the lights, but I also wanted to incorporate them into the actual shot to make it unique."
Chris Yacoubian, Director of Photography for the glamour and profile shots for the show, sought out the Rotolight team. He said: "I saw the Anova PRO 2 clustered together and that just sparked my creativity. The lights are powerful, portable and beautiful in terms of their colour rendition and skin tones. They are a fantastic tool and deliver and perform perfectly. I'm thrilled with the result."
The Rotolight Anova PRO 2 is a continuous light and High Speed Sync (HSS) flash. The light includes a customisable suite of Rotolight's CineSFX™ (Fire, Lightning, TV, Gunshot, Paparazzi, etc.) which eliminates the need for expensive, time-consuming legacy 'flicker-box' workflows. The light also delivers outstanding colour reproduction (CRI>96, TLCI 91) eliminating the need for post production, something that was important for Yacoubian and Sutton during the shoot.
"The newly launched Rotolight Anova PRO 2s have performed amazingly well. In a studio literally made of ice, we constantly pushed them to their limits and they haven't let us down. They are a seriously versatile tool for your kit. Apart from the great functionality, the lights are really energy efficient, which was vital for us as we were running so many at the same time. They are also safe and generate no heat that we had to worry about, while drawing hardly any power — unlike traditional lighting," Yacoubian said.
The custom-designed hex rings were controlled via a lighting desk and five-pin DMX connection, that also enabled operators to use the built-in CineSFX™ suite of effects, such as flash and pulse lights for added drama.
"The lights are amazing. You can create a number of effects, like firelight or paparazzi, which we used on set, and quickly switch between them and the continuous light with just a flick of a button or go from soft tungsten to punchy daylight in a heartbeat," continued Yacoubian.
The Anova PRO 2s are sold separately, and Rotolight will be offering the hex ring mounting system as part of its product portfolio later in the year.
rotolight.com
Image: Stephanie Waring and Sylvain Longchambon.
Top Related Stories
Click here for the latest broadcast news stories.