Broadcast News
07/11/2018
Hawk-Woods Welcomes NEW Additions Into Their Ever-Growing Battery Range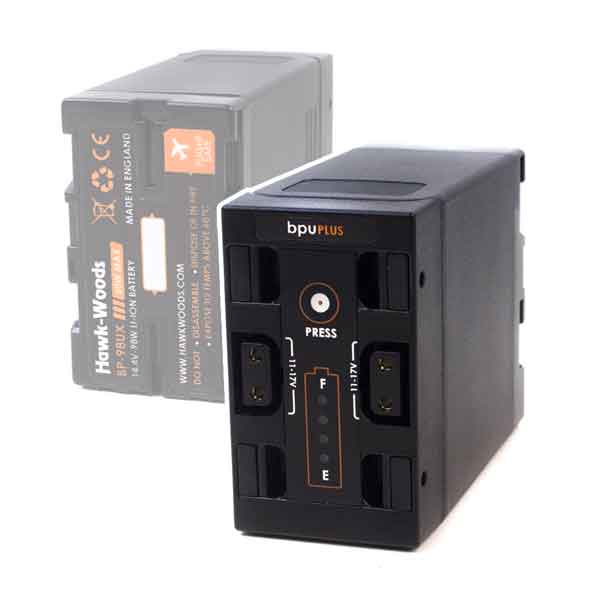 Hawk-Woods, developer of broadcast power solutions announces new capacity Sony NPF and BP-U batteries, new ultra-small and lightweight additions to its MDV and BPU battery line.
To support the growing equipment list from camera's, monitors to mixer's using the MDV battery range (NP-F), Hawk-Woods have recently doubled their range of MDV batteries, whilst the Sony BP-U range due to the popular demand on their 75Wh version, have offered a 98Wh with dual output! 

This new MDV range consists of batteries ranging from 18-74Wh with different size variations tailored to suit your preference on power vs weight ratio!
Whether you are looking to run your camera for longer the 6-cell 74Wh version maybe for you, on the other hand a monitor may require the medium 4-cell 50Wh version due to weight and less depth to the battery! 

The four new additions to the DV range are the: DV-F590 – 25Wh (2-cell), DV-F770 – 38Wh (4-cell), DV-F790 – 50Wh (4-cell) and the DV-F990 -74Wh (6-cell). The largest capacity battery now in the range is the DV-F990 – with an astonishing 74Wh of power and weighing less than 300g, is an impressive, powerful addition that will provide the user with increased run time.
Testing has been done with the popular Atomos 4k recorders with a single DV-F990, the user achieved 2 hours from a single battery whilst 4k recording on 50% brightness. 

In addition to the Hawk-woods current 14.4V BPU range comes the BP-98UX, this is due to the popular demand on the 75Wh version which has been used with the Sony FS7 and now the latest FS5 camera's. 

The 98Wh version will still maintain its flight-safe status and retain the requested two D-TAP outputs. Whilst still offering these key features, Hawk-Woods have managed to upgrade the capacity of the battery, whilst keeping the physical size of the battery the same as the 75Wh version. With all this, weight gained is a mere 18g! All the necessary protection included within the battery, this is standard across the range of Hawk-Woods batteries!
This article is also available in the November issue of Broadcast Film & Video
here
.
Top Related Stories
Click here for the latest broadcast news stories.