Broadcast News
19/09/2018
BFV's Big Interview: Axon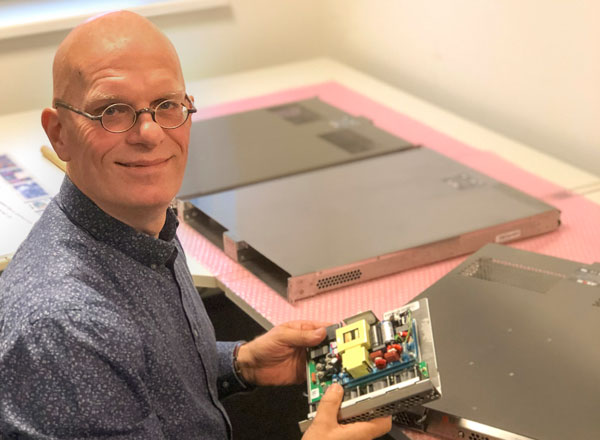 Broadcast Film and Video exclusively talks to Axon CTO Peter Schut, who joined the firm in 1994.
Peter and his team have pioneered many developments in high-end audio and video monitoring and processing.
The firm is set to launch the Neuron at this year's IBC show which is the world's first Network Attached Processor (NAP) for Broadcast IP environments.
Peter also talks about the future of IP and the exciting plans the firm has for the future.
Hi Peter. Could you tell us a little bit about the company and how it has evolved during your time there.
Actually, at the time of this interview, I am two days away from my 24th anniversary with the company. Starting as a very small firm Axon made its first steps into SDI infrastructures. We evolved as a medium size player in what we today call the glue market. Through the original modular range, called FR-range, we transferred to a more powerful system called Synapse in 2001. I think it is fair to say that Synapse has been extremely successful in those years.
When we started Synapse we had no clue what we all were going to do in the future. If you look today, we added multiviewing, IP, Dolby processing and all stuff that was not available in a modular system in early 2000. Today all those functions have been added in the modular system.
Also, in the last three to four years, the move to IP has caused us to rethink how to look at the market. We expect that the standard connectivity speed for infrastructures will start at 25Gb/s and that was the point where we had to conclude that our Synapse modular system was not the most efficient way of going into that direction.
That started the design and birth of a new product line called Neuron.
You've got a number of exciting demonstrations at IBC including the launch of Neuron. What should visitors expect from your booth?
Well, this is indeed the first introduction and what they can expect to see is the physical unit. They will see the first steps into its massive amount of functionality that we are going to deliver before the end of this year. This is a full IP to IP processing capability, IP to SDI and SDI to IP, including up down cross and audio processing. The road map is very vivid for this product and I would expect that the Neuron platform will show very interesting updates in future shows. On top of that of course the control via Cerebrum. Cerebrum has become a very important part of our company. At the moment it is our fastest growing product. Currently we win a lot of new customers who move from, let's say a more established control system, to the way more flexible and powerful Cerebrum.
How important is IBC to Axon?
IBC, in our home-country, is very important to us. It is the show where we do our major product launches. We have been participating for 27 years and it is the show which we all look forward to doing. The five days are exhausting but also give a lot of energy!
There have been many discussions taking place surrounding IP and its role now and in the future. How is Axon contributing to the dominating landscape of IP?
As I said earlier, the move to IP is a definite direction that is now going to happen. After a five-year chasm at first IP actually did not work. In the middle of that chasm, it worked a little but the customers were not really convinced that this was going to be the future. We can now say that the skepticism in the direction of IP is gone. I think that 90% of our customers are involved in rethinking their infrastructure topology. IP is the way to go, and will be part of the future of our industry.
Axon's Cerebrum delivered Host Broadcast Services for Wimbledon 2018. What made your solution ideal for this event?
The complex IP infrastructure, which simultaneously offered dual level UHD, HD-SDI, SDR UHD and HDR UHD, required a reliable and comprehensive control system to seamlessly integrate and manage the latest technologies from GVG, Arista, EVS, Phabrix, Calrec and Evertz in a unified IP workflow. Cerebrum provided both power and flexibility and scales effectively to allow multiple users on the system. It simplified our workflow by minimising engineering bottlenecks and eased to configure at speed.
In a fast-paced production environment, familiarity and ease-of-use for skilled operators is critical. This is where Cerebrum comes into its own. It gave NEP a really simple user-friendly graphical interface that enabled the crew to get their heads around the workflow, to customise it and quickly preconfigure a show file to be pulled up later. They could get to work and focus on the production, without concern for the complex and changing technology layer underneath.
After the recent appointments of Michiel Van Duijvendijk and Karel van Der Flier, how has the company used and benefitted from their significant experience of live sports production? Is live sports production an even larger focus going forward?
Yes, that is actually a fact and it is happening as we speak. The customer relationship that Karel and Michiel have in the live sports broadcast environment opens doors that were closed before. Not only with NEP as a more important customer for the near future but also in areas, like the Americas, where we historically have not been very strong.
What are the future plans for Axon, any upcoming projects or products you're working on?
We want to sell a lot and live on the Bahamas, no just kidding!
 Our focus for extension you will see in the Cerebrum and Neuron product lines. Synapse will still grow but at a slower speed then before. Synapse is in a pure SDI environment still a very powerful product and we expect that for many years to come. When it comes to a true IP and pure infrastructure then the Neuron platform is just more efficient, powerful and futureproof. I expect that by the end of this year, 2018, 70% of the R&D department will be working on features for the Neuron platform.
Thanks so much for taking the time to talk to us.
www.axon.tv
This article is also available in the September edition of Broadcast Film & Video. Here.
Top Related Stories
Click here for the latest broadcast news stories.