Broadcast News
23/06/2022
Inside The Mix With Ana Monte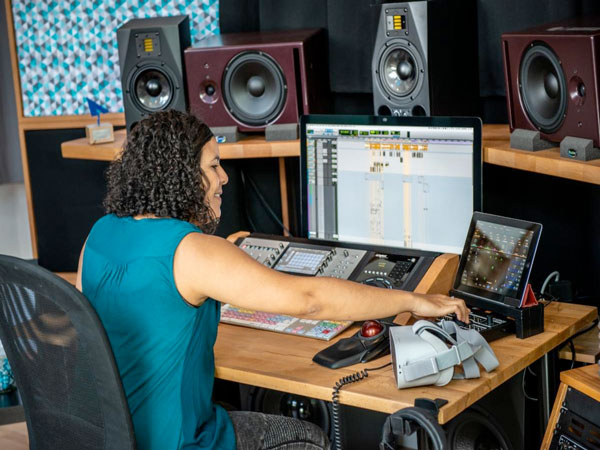 NUGEN Audio Q&A with Sound Designer/Recordist and Co-founder
of DELTA Soundworks
Q: How did you get your start in this industry?
A: I was born and raised in Rio de Janeiro, Brazil, where my love for music was first discovered. From the age of eight until 18, I studied piano at the "Rio de Janeiro State Music Conservatory." After graduation, I went on to earn a bachelor's degree in Music Industry and Technology from California State University, Chico.
Q: What was it like starting out as a woman in the industry?
A: I've always been used to the fact that women are in the minority in this industry; we unfortunately make up only about five percent of audio professionals. For me, it's something that was just always there. I've never personally had any big problems, even in college, where women were also in the minority, but I know it was tougher for older generations of women. I haven't faced a lot of discrimination in the industry, and I really like working with people of all backgrounds. I feel lucky because I have the experience of knowing different languages and cultural experiences. Being Brazilian and outgoing, and using humor, has helped me a lot.
Q: What are you doing now?
A: Now that immersive audio is growing in popularity, we have started to work more exclusively on the types of projects that place you inside the story. Included among these is the multi-award-winning virtual reality (VR) project called BlautopfVR, a series of three experiences that is available online, in app stores or in the STEAM store, and was produced by SWR, a German tax-funded television channel. While it was developed as an entertaining journey, it is educational as well. It takes viewers through one of Germany's largest cave systems, Blautopf, under the Swabian Alps, which has been explored by only a small number of people. The footage was captured using photogrammetry, a method in which you take several photos and stitch them together into a 3D environment. Since sound could not be recorded on-location, it was our job to recreate the soundscape and its acoustics in the studio using a virtual model. This was tricky because the acoustics of each cave is different, so we calculated the reverb in real-time using ray-tracing technology.
Q: What types of NUGEN Audio software and plug-ins do you use to problem-solve on your projects?
A: I use Halo Upmix for sound design, especially to create atmosphere sounds, like a cave or forest. I plug in my source, and Upmix just works; it's really great. I don't have to spend hours tweaking the sound just to have it only serve as a bed to add extra elements on top. We also recently integrated Paragon into our toolkit, which allows us to basically create completely new spaces and has been especially helpful for the immersive sound projects. Using these tools in combination with each other allows us to add more depth to our projects. For example, maybe I want an extra explosion and then we're in the middle of a pirate battle. They both work really well for tasks like that.
www.nugenaudio.com
Top Related Stories
Click here for the latest broadcast news stories.