Broadcast News
09/08/2018
Transitioning To A Full End To End IP Video Solution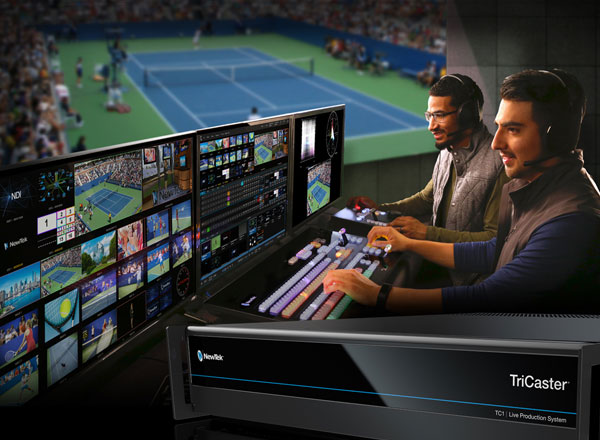 Most video professionals will agree that the future is IP. The question is, when and how do they make this transition?
With manufacturers introducing new IP products, many people are observing and waiting. However, the reality is that the move to IP is already rapidly taking place and is more transformational than the move from analogue to digital, SD to HD, or HD to UHD/HDR. IP will change the way that people interact with video, making it more flexible, more accessible, more scalable and will provide more opportunities for content delivery.
The Beginning of NDI
Encoding video on computers is complex and can create various limitations on the number of video inputs that are available. With this in mind, NewTek started the journey to bring more video inputs to its range of live production systems. At IBC 2015, NewTek released the NDI (Network Device Interface) IP video standard, for live production IP workflows over Ethernet networks, as a free SDK. Since the release of NDI, NewTek has received nearly 3000 download requests from customers, hundreds of companies are shipping or developing NDI-enabled products, and millions of users worldwide work with NDI each day.
NDI Adoption
From live production systems to computer graphics to network storage devices, NDI is bringing IP to a wide variety of products. Companies like Ross, Vizrt and LiveU have adopted NDI as part of their comprehensive IP strategy to serve a broader market. Furthermore, streaming companies like Streamstar, Xsplit and vMix have adopted NDI as part of their core strategy. One universal sentiment among NDI developers is how easy it is to implement and as the technology is free, but not open, with interoperability between NDI products from different companies is a huge benefit.
Closing the Loop
Once a broadcaster begins to build a new IP workflow, the first problem that they will have to solve is how to get a video into IP. The shorter the SDI or HDMI cable is the better as video professionals will want to get video to IP as quickly as possible at the source. Manufacturers including NewTek have introduced SDI/HDMI-to-NDI converters to help users convert legacy cameras and video equipment to NDI from the source. This helps to save on excess cables and replaces them with a single ethernet cable, or users can connect wirelessly on the network.
Introducing NDI Cameras
Conversion from baseband video to IP is necessary for legacy products, but the ultimate scenario for video professionals is to have low-latency IP video straight from the camera. This will completely eliminate baseband video from the workflow and will simplify connections with a single cable that can carry power over Ethernet, video, audio, tally and plug and play PTZ control. The most exciting feature of NDI cameras is that they require no configuration or set up and can be used in a number of installation environments.
The Bigger Picture
At NewTek we see an industry that is committed to achieving the maximum flexibility for end users. With SMPTE 2110, we have acknowledged that there is room in the industry for multiple standards. NDI may be chosen as the sole IP standard in some facilities, or it will be on the back burner in facilities that have adopted a 2110 core. Ultimately, the most important factor to remember is that IP improves workflows and the future is brighter than ever as the industry makes the biggest move to IP.
Author: Brian Olson, Vice President of Product Management, NewTek
This article is also available in the August edition of Broadcast Film & Video. Available here.
Top Related Stories
Click here for the latest broadcast news stories.