Broadcast News
18/09/2018
Atomos Unveils Ninja V AtomX Ethernet/NDI® Module At IBC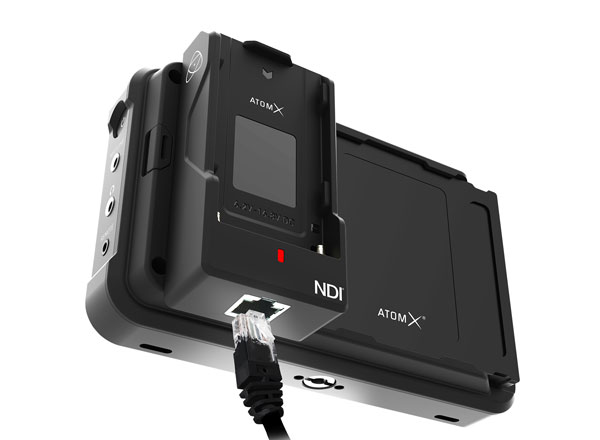 Atomos has introduced the new AtomX Ethernet/NDI® module for the Ninja V at IBC 2018.
The module, which docks into the expansion slot of the monitor/recorder, has a wired ethernet (1 GigE) connector that makes it possible to deliver live broadcast-grade video over IP networks.
It allows smaller HDMI equipped cameras and devices to seamlessly integrate into productions using NewTek's NDI® ecosystem, providing broadcasters and streamers with a simple, cost effective way to enhance the look of their live shows or add extra cameras.
Why NDI®?
Video over 1G Ethernet is an exciting upgrade to traditional SDI infrastructure. NewTek has been developing NDI® for many years and now Atomos is offering its customers the benefit of the ethernet video revolution. Video over ethernet, specifically NDI, offers simple installation, control and simple operation. Essentially the Ninja V with AtomX Ethernet/NDI® module is a simple bridge between any HDMI source and a NDI network, plus a professional monitor for perfect exposure and focus.
Atomos has integrated the NDI technology from NewTek and the AtomX Ethernet/NDI® module is fully compatible with the NDI ecosystem of products. The module supports NDI I/O from cameras and HDMI or SDI equipment up to 4Kp60 and HDp240 - downscaled to HDp60 or lower. NDI encode and decode is included with advanced control and sync of Atomos devices, plus transport and control to and from traditional broadcast equipment. The AtomX Ethernet/NDI® module allows Atomos customers to distribute, monitor and route video and audio at low latency with full control for the ultimate production experience, live or staged.
AtomX advantage
Together with the AtomX Sync module also launched, the Atom X Ethernet/NDI® module is the first in a series of innovative AtomX solutions to come. AtomX modules dock into the battery slot, and multiple modules can be stacked passing power and offering advanced connections and functions. The Ninja V expansion port is a high-speed data inferface that supports PCI Express Gen3, USB 3.1, 12G SDI and HDMI 2.0. It is bi-directional and built to carry high quality video, audio and power for practically limitless expansion.
NDI capabilities
NewTek's NDI uses 1 Gig Ethernet to transport and control multiple connected video streams, forming a complete broadcast infrastructure that is quick and easy to install.
The AtomX modular system will grow to attach any video or audio source to an NDI network, with 12G/6G/3G/1.5G SDI/HDMI inputs up to 4Kp60, downscaled for NDI. The system can cope with progressive and interlaced sources and has a latency of less than 30ms.
Atomos CEO Jeromy Young said: "The AtomX Ethernet/NDI® module is the most affordable NDI solution available, accelerating NDI adoption by our users. By combining NewTek's NDI and our advanced video monitor/recorder platform we enable a whole new generation of live producers. It's remarkable you can use a full-frame mirrorless interchangeable lens camera in an NDI environment, increasing live creative options at amazingly low cost!"
"Our vision is that all video devices are linked and able to share content in real time across an existing IP network," said Michael Kornet, Executive Vice President and General Manager of NDI for NewTek. "NDI is the standard IP technology in the market and now that it will be combined with the exciting AtomX, from Atomos, a whole new set of creative content producers will gain the tremendous benefits of IP video."
The Ninja V and AtomX modules, plus all the other Atomos products are available on booth 11.D15 & 11.D25 at IBC2018. Atomos and its CEO Jeromy Young will also be showcasing its prototype solutions at NewTek's IBC event this Saturday night (15 September) at 5:30pm on stand C59 in Hall 7.
www.atomos.com
www.ndi.newtek.com
Top Related Stories
Click here for the latest broadcast news stories.