Broadcast News
15/06/2018
NewTek Releases NDI Version 3.5 SDK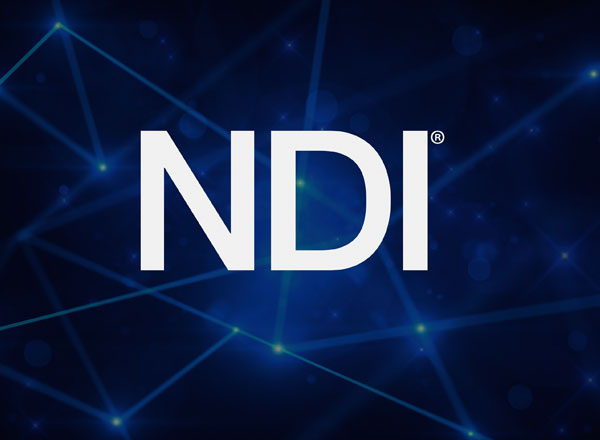 NewTek has officially released NDI version 3.5 SDK, following a successful debut at NAB 2018.
NDI is software-driven IP video technology that shares video across a standard Ethernet network.  
NDI 3.5 provides numerous performance improvements and features to NewTek's royalty-free IP video technology while maintaining full forward and backward compatibility. Among dozens of other enhancements, NDI 3.5 now supports unicast UDP transfer; new colour formats; significant discovery, scalability, and performance improvements; numerous new and improved tools, and much more.  
"NewTek has long believed that the future of video production is based on software, computers, and networks, and we've based the last 15 years of our R&D on building products to this vision," said Dr Andrew Cross, president and CTO of NewTek. "NDI is the key ingredient of our vision; free to use, easy to implement, enabling developers and storytellers large and small – anyone with an idea – to push the IP revolution forward and leave an indelible mark on the industry."  
Significant changes to the NDI SDK include the use of unicast UDP with forwards error correction as the default mode to provide better performance on networks with high packet latency, such as long-distance transfers, while still supporting unicast TCP and multicast UDP for maximum flexibility. NDI 3.5 also boasts scalability and performance improvements with a 200% improvement in the number of 4K streams supported in a single process.  
Important advancements to NDI Tools in version 3.5 provide huge benefits to users and IP video workflows. A new version of NDI Scan Converter shows vastly improved screen capture performance with full region of interest support at full-raster frame rates that is ideal for game streamers. The Virtual Input Driver now makes NDI sources available as standard Windows® video capture or audio card sources for availability in Google Hangouts, GoToMeeting, Zoom, and more.  
On an even bigger scale, NDI Studio Monitor gets a major uplift with enhancements to quality, performance and feature set. Web-based remote control over any number of Studio Monitor instances allows a mobile device with QR code access and password support to control configuration, source selection, and P2P communication between devices. Multi-monitor support with computer pairing and locking of instances that are self-launching, multi-window, and include the ability for picture-in-picture or an entire alpha channel overlay make NDI an ideal solution for large-scale signage installations.
The NewTek NDI version 3.5 SDK is available for download now at
ndi.newtek.com
.
Top Related Stories
Click here for the latest broadcast news stories.