Broadcast News
06/08/2018
PBT EU's NEXT-TT To Make European Premiere At IBC Show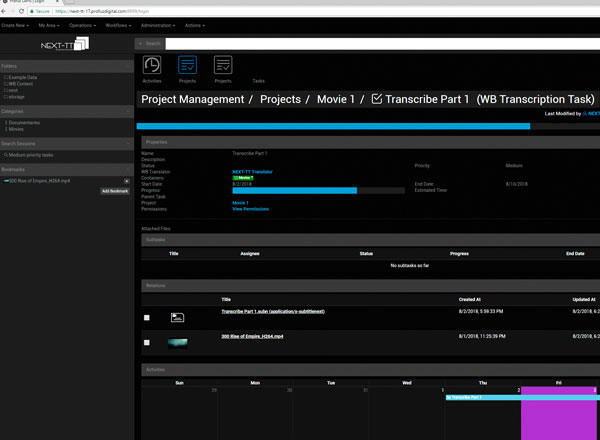 PlayBox Technology EU (PBT EU) is to debut its new Timed-Text hybrid platform NEXT-TT at the upcoming IBC Show.
The platform, powered by Profuz Digital, will be showcased alongside the EXEcutor™ Media Integrator module at PBT EU's Launch Pad 9.LP35.
The complete NEXT-TT solution is comprised of two distinct elements that work together as a single, unified platform: LAPIS (Limitless Advanced Powerful and Intelligent System) with timed-text subtitling software application SubtitleNEXT. The fusion has resulted in new capabilities enabling extremely fast and efficient generation of managing timed-text, dubbing and localisation services of any type of content, or managing teams of translators, audiovisual professionals, and creative freelancers, providing an ultra-secure and super-fast private workspace, toolsets, and workflows for ensuring quality.
NEXT-TT has already attracted the attention of leading Hollywood studios and is quickly gaining a reputation in subtitling. This unique approach is designed to give users greater freedom of choice in how they work with desktop or cloud applications. SubtitleNEXT and LAPIS can also be used separately bringing the best of both worlds to subtitlers. 
LAPIS is a central hub that brings disparate data services that media companies use under one roof.  It manages complex processes, tasks, video, audio, text, user access, security, and safeguards confidential material. It has the ability to access and search data across many providers such as YouTube, Vimeo, stock image libraries, internal media asset storage systems and customer relationship data bases.
NEXT-TT is user-friendly, innovative, customisable, intuitive and already adopted across various multimedia industries. It easily adapts to any settings, resolutions, and formats such as AR, MR, XR, VR, 8K, 4K, 2K, HD, SD, 3D, UHD across online video, TV, film, theatre, concerts, festivals, conferences and events. It can be applied throughout the entire video production process from concept to distribution.
PBT EU partnered with Italy's IT Pros Subtitles® this year to create the first remote online course for translators to learn subtitling skills based on SubtitleNEXT. The initial training module, along with other brands, went ahead recently run by IT Pros' most experienced subtitler Monica Paolillo who trained a group of translation professionals to master the software. In addition, the recent launch of new website
www.subtitlenext.com
has been labelled as the 'Home of Subtitlers' and a NEXTClub members community is growing around the product, with a new e-shop that opened in time for NAB earlier this year.

PBT EU will also support the Languages & The Media 2018 Conference in Berlin in October with its flagship platform NEXT-TT logo proudly displayed as official Silver Sponsor product of the show, alongside STAR, Netflix and VSI.
PBT EU's other product on show, the module-based EXEcutor™ Media Integrator introduces three new levels this year at IBC. The system serves as an essential addition to 'Channel-In-A-Box' bundles, making it future-ready and adaptable for all production environments. It expands the 'CiaB' concept beyond traditional channel origination, over to production and asset control environments, making it more accessible. It is easy to upgrade and is a future-proof solution that evolves and scales with growing requirements without losing data or history and hosts dedicated tools for CRM and project management.
PBT EU's GM, Vladimir Stanic will be on hand to share insights and expertise. He said: "Our EXEcutor™ brand of products will be enriched by the enhanced EXEcutor™ Media Integrator, plus the premiere of several new server models. Our services can be tailor-made to create the best results to suit each individual case. We welcome visitors to the show to come and talk to us about how we can help. We have a reputation of being good listeners and customers expect a pleasant client journey. PBT EU's Launch Pad at IBC2018 is an excellent starting point."
After just providing solutions to Videohouse, the  largest production house in the Benelux region, PBT EU's sales director Alexander Stoyanov added: "2018 marks another year of massive penetration and expansion of diversified timed-text services followed by content and process management systems. Our main emphasis for this IBC combines both trends and all visitors can enjoy the European debut of the NEXT-TT hybrid platform, announced at NAB a few months ago."
pbteu.com
Top Related Stories
Click here for the latest broadcast news stories.