Broadcast News
02/08/2018
IMT And Vislink To Showcase Newsnet Ecosystem At TAB Show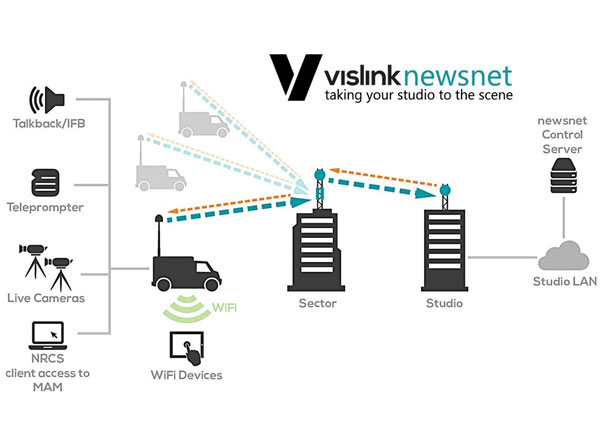 IMT and Vislink are showcasing their latest newsnet ecosystem alongside a range wireless camera transmitters at the TAB (Texas Association of Broadcasters) Show, 01-02 August.
In Booth #116, IMT Vislink will display its HCAM 4k/UHD/HDR, MicroLite 2, and IMTDragonFly, as well as the IPLink digital microwave radio system.
IMT and Vislink will also host a live, fully operational demonstration of how the newsnet technological ecosystem enables IP-based workflow solutions. Newsnet incorporates a high-speed and reliable bi-directional IP network that utilises broadcasters' 2 GHz BAS-licensed spectrum. This increases the number of live ENG (Electronic News Gathering) transmissions and workflows that can be performed from the field.
"IMT and Vislink have a history of being at the forefront of video technology advancements, and we continue to update our solutions to meet the demands of changing production environments and standards around the world," said John Payne IV, president of IMT USA. "TAB is the largest state broadcasting event in the country and is a great show for us to connect with engineers to speak about our extensive line of premium products. With our solutions, broadcasters can collect and deliver secure, high-quality video for live news, sporting, entertainment events and do things that were never thought possible in the field."
HCAM is a HEVC 4K UHD wireless transmitter that delivers exceptional quality and supports applications such as ENG and live sports broadcasts.
The MicroLite 2 system is compact professional-grade COFDM HD wireless camera transmission link capable of providing high-quality video at distances over two miles, line-of-sight (LOS).
The IMTDragonFly is a miniature transmitter designed to capture real-time, high-quality video from unmanned air and ground vehicles, bodycams and concealments for display on fixed or mobile receive devices.
The IPLink digital microwave point-to-point radio system was designed to serve as a bridge to the future for broadcasters from traditional ASI transport to future IP-centric architectures. It supports the industry's preparation for ATSC 3.0-capable requiring high-capacity long-distance bi-directional IP microwave radios.
The xG Technology brands and products are on display in booth #116 at the TAB Show in Austin, Texas, 01–02 August.
www.imt-solutions.com
www.vislink.com
Top Related Stories
Click here for the latest broadcast news stories.