Broadcast News
31/05/2018
Panasonic Partners With IMT Vislink For Wireless Integration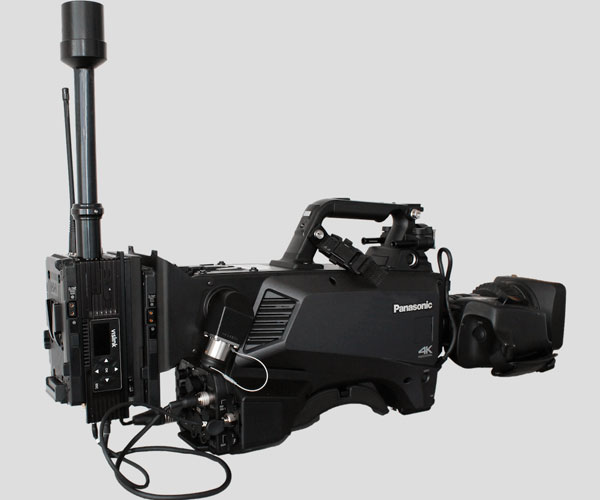 Panasonic has partnered with IMT Vislink to integrate its camera range with IMT's external wireless solution.
The integration is to enable an end-to-end video capture, transmission and receiving workflow for various broadcast applications.
The new partnership will also offer 'FocalPoint' camera control compatibility for Panasonic's AK-HC5000 HD, AK-UC3000 and AK-UC4000 4K studio cameras and AK-HRP1000/1005 controller.

Panasonic's AK-UC4000 will also receive a software upgrade in September 2018, which will include the capability for 4K output via one of the 12G-SDI outputs from the camera head. When combined with the HCAM transmitter, the AK-UC3000, AK-HC5000 and AK-UC4000 will all allow Full HD wireless video transmission, with 4K transmission using the UC4000.    
Dean Chettra, Global Channel Manager at IMT Vislink said: "The HCAM represents the next generation of HEVC 4K UHD wireless transmitters, supporting applications such as ENG and sports broadcasts. The HCAM, which comes with highly flexible and configurable mounting options and intuitive video interfaces, can be mounted to broadcast cameras, ENG cameras and prosumer cameras broadening its market appeal."  
Stefan Hofmann, Sales Engineering Manager at Panasonic added: "With user-interchangeable RF modules and a range of software options, the HCAM continues the line of innovative, high performance wireless camera systems from IMT and Vislink. We think that our users will find that the joint development we have carried will ensure that they have a smooth workflow for live wireless broadcast."  
The HCAM features interchangeable, futureproof dual SFP modules supporting quad 3/6/12G SDI/HDMI/Fiber Optic/SMPTE 2022-6 HD-SDI over IP interfaces as well as Wi-Fi and Bluetooth control via a dedicated Android and iOS application.  
IMT Vislink will begin shipping its external wireless solutions for the AK-HC5000, AK-UC3000 and AK-UC4000 from the end of May.
business.panasonic.eu/broadcast-and-proav
Top Related Stories
Click here for the latest broadcast news stories.