Broadcast News
10/04/2019
Vislink & Grass Valley Show Integrated Broadcast Solution At NAB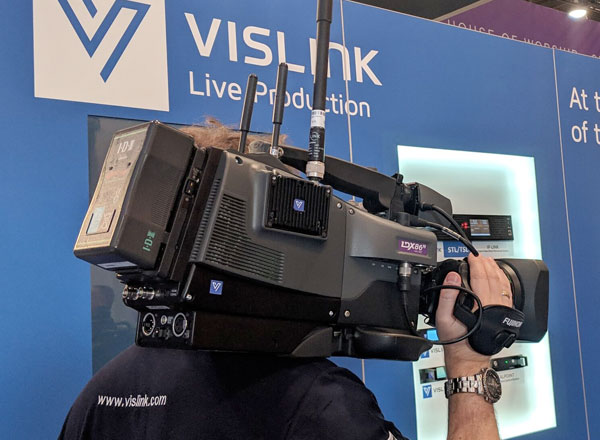 Vislink Technologies and Grass Valley have showcased their latest collaboration at NAB 2019 - an all-in-one broadcast solution.
The INCAM-HG integrates Grass Valley's newest LDX 86N Series 4K-RF camera with Vislink Technologies' INCAM-HG wireless camera transmitter, which provides HEVC 4K UHD, HDR-ready wireless encoding and a remote-controllable camera interface via WiFi.
Building on the technology from Vislink's end-to-end HCAM solution, the INCAM-HG offers single-frame latency image acquisition. Perfect for ENG, sports and event applications, the INCAM-HG is designed for all of the latest image capture needs, including UHD, HDR, 4:2:2 Chroma and 10-bit Luna. With an intuitive user interface and FocalPoint camera control, the INCAM-HG provides a simple-to-use, cable-free, grab-and-go camera solution.
"We're very happy that Vislink is extending the success of the HD INCAM-G into the 4K domain with this new product," said Marcel Koutstaal vice president of cameras, Grass Valley. "We look forward to serving our many customers around the world with a truly integrated native 4K RF solution, comprised of the Grass Valley LDX 86N 4K-RF camera and the Vislink INCAM-HG wireless transmitter."
The Vislink Technologies INCAM-HG is available with several frequency band solutions, from 1.3-7.75GHz, and offers up to 16 preset channels for tuning. The omni-directional 3dBi gain antenna provides an adjustable 10-250mW transmission power. The transmitter includes COFDM DVB-T and LMS-T modulation options, while the integrated UHF receiver operates in the 410-490MHz RF range.
"We are thrilled to once again be partnering with Grass Valley to provide the latest in 4K video technology," said John Payne, president and COO of Vislink Technologies. "Grass Valley produces some of the leading cameras on the market and we're certain that our INCAM-HG solution will continue to provide Grass Valley customers with the ultimate video production experience. In addition to the impressive transmission and frequency features of the INCAM-HG, the system also boasts a wide array of video formats, inputs and encoder profiles."
Available with bandwidth efficient HEVC compression, as well as MPEG-4 video encoding and multi-channel AAC, MPEG-1 and AES/Dolby E audio passthrough, Vislink Technologies' INCAM-HG supports 480i, 576i, 720p, 1080i, 1080p and 2160p video formats. This fully featured and flexible capability ensures that the INCAM-HG can fulfill the needs of all video productions.
The lNCAM-HG is on display at the 2019 NAB Show from 08-11 April (Vislink Booth C6008, Grass Valley Booth SL106).
Top Related Stories
Click here for the latest broadcast news stories.