Broadcast News
05/07/2018
Five Tips For Outside Broadcasting And Live Events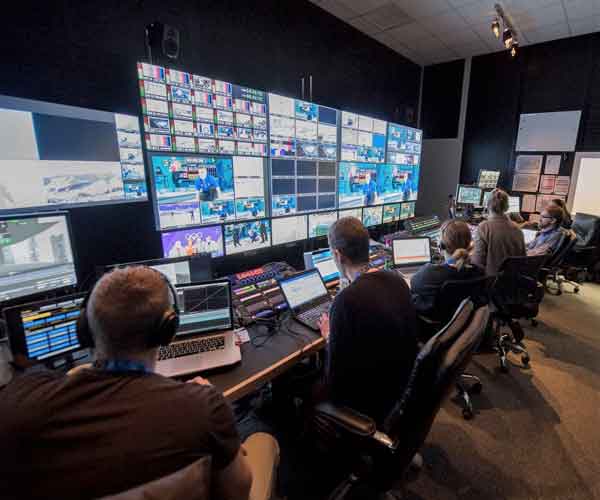 NEP has worked on hundreds of live events over the years and all around the world, covering virtually every global sport. This extensive experience is critical to managing these major events. Here are our top tips for managing live OB productions:
TIP ONE - Collaborate with stakeholders
It's not just about knowing where to place the cameras or how to organise cabling; thorough planning must take place before each individual event. This will involve looking at how you can work with various stakeholders, as you're working with multiple broadcasters with different technical requirements. The feed from the OB trucks will be going out to clients, many of whom will be on-site, so you must give great care and attention to your interactions with these broadcasters.
TIP TWO – Choose the right partner
NEP's global reach is a major benefit for our clients as we are able to call upon local offices for equipment and crew, which saves considerable time and money in terms of freighting and staff travel. Local knowledge of venues, regulations and language are also very helpful for the smooth running of events. For major events we often become the 'United Nations of NEP'. We had hundreds of staff managing equipment from nine countries on site at this year's Winter Olympics in PyeongChang. It is reassuring for clients to know they are working with a company that offers a tailored solution on a global scale, and one that can easily pull in additional resources quickly and easily if needed.
TIP THREE – Bring in the family
Bringing in help from 'family and friend' companies can help you to offer a broader range of services and specifically meet the customer's needs. For instance, our sister company Creative Technology (CT) provided numerous displays at the Royal Wedding ceremony for attendees inside St George's Chapel. To achieve this, CT, the leading live events provider of audio visual solutions fed each monitor with a main and backup signal, which was provided by NEP UK outside of the chapel.
TIP FOUR – Think outside the box
It is critical to continually review the latest technology, and this could involve adopting more cost-efficient ways of working or offering integrated UHD/4K workflows. As well as carefully examining new advances to advise on the pros and cons of integrating them into existing workflows. When working on the BAFTA TV award-winning series, Love Island, we listened to ITV's needs and adapted our fixed rig and production gallery technology solutions accordingly. We also proactively take our existing technology knowledge and experience to create new and original ideas.
TIP FIVE – Be prepared for anything
Every event is different and comes with its own challenges. Some may require OB trucks, others will need flypacks, or may require both as well as International Broadcast Centre facilities and project management services. We've worked in various environments where the team had to overcome challenging situations. One notable challenge was last year was an unstable power source and insufficient air-conditioning that was out of our control during one of the global Women's Tennis Association (WTA) tournaments. The team has to constantly monitor the temperature of the kit to prevent it from shutting down and recruit help from the local NEP team. You need to approach each challenge positively and the question is always, how are we going to produce this event if everything around us fails?  
When managing an OB live production, you should always am to simplify processes. Always make sure you understand the project fully, get a real feel for the size of the broadcast and technology that needs to be involved. Once this has been assessed you can plan and deliver a high level of service, one where you can utilise an extensive range of equipment and experience, plus a global reach that makes everywhere a local event.
This article is also available in the July edition of Broadcast Film & Video. Available here.
Top Related Stories
Click here for the latest broadcast news stories.