Broadcast News
13/03/2020
DTS1800 Fibre System For Live Events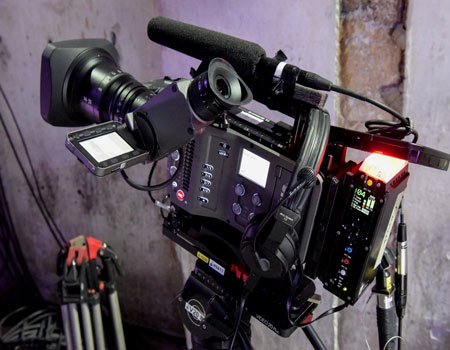 Digital Television Systems have over 25 years' experience in Camera Control Systems. No wonder the DTS1800 Fibre System is the preferred Multi Camera solution for live events of camera manufacturers.
The DTS1800 System provides all functionality required for Multi Camera Live Productions with many different camera models from manufacturers such as ARRI, Panasonic, Sony, Canon and JVC.
The robust, battery sized Camera Adaptor can transmit up to 8K uncompressed video and supply 100W of power for the camera and accessories over a 2Km hybrid fibre cable.
Entry level systems for HD-SDI transmission are upgradeable up to 8K providing an upgrade path for the future.
Users can record on-camera whilst simultaneously transmitting live HD or UHD signals to a broadcast facility, stage display, or social media channel using standard production environments such as OB vans or studios.
The Fibre Base Station (FBS) is available in two form factors.
Compact 1/4 U modules allow up to 4 fibre camera channels in a single 1U rack frame which make them ideal for PPUs, Flypacks or small OB vehicles, or a more traditional 1U enclosure.
Both options provide a multitude of interfaces allowing for easy integration into existing installations.
HD-SDI and CVBS Monitor outputs are available alongside HD-SDI, 3G or Quad Link 3G programme video outputs with options to simultaneously output single link 12G SDI Video.
HD-SDI and CVBS Return Video inputs are provided along with Genlock , Call, red and green Tally, two channels of intercom, AES, Analogue Programme audio and Time code.
The system also provides RS232, RS422, RS485 and Ethernet data channels for camera control using standard RCPs and lens controllers allowing users to make immediate changes to camera settings and parameters.
The compact and light weight Fibre Camera Adaptor (FCA)can be mounted on many different camcorder style cameras with V-mount or Anton Bauer camera docks allowing the cameras to perform multiple tasks in outside broadcast or studio applications.
Working closely with Arri, the FCA can now be integrated with the Amira using a camera interface that eliminates the need for any external cabling between the two units.
Additionally, DTS and Panasonic have collaborated to develop an option to debayer Panasonic 4K Raw outputs from the VariCam LT to provide 4K/60P video outputs from the Fibre Base Station.
Furthermore, the system allows adjustment of the debayered video through the Panasonic RCP including the selection of 3D LUTs that can be created by the user and uploaded to the Fibre Base Station from a USB memory stick. An untouched version of the video can then be recorded in the camera to be sent to post whilst simultaneously broadcasting the live graded video.
The DTS1800 system has proven reliability in many events worldwide. For references please visit our website.
www.phibre.tv
Top Related Stories
Click here for the latest broadcast news stories.