Broadcast News
15/01/2020
Ross Video Helps Cornerstone Technologies Build Live Events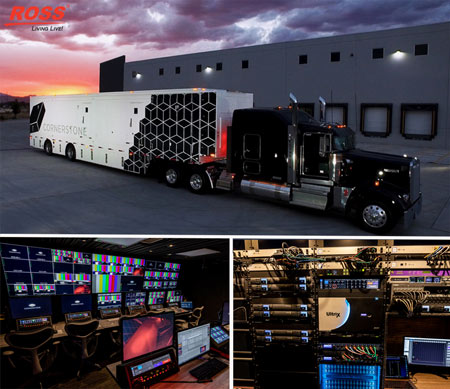 Live video production used to be synonymous with the broadcast industry, but the last decade has seen a content explosion as corporations, sports clubs, stadiums, live event organisers and educators have all harnessed the story-telling power of live video to benefit their audiences.
Cornerstone Technologies watched this emerging trend and decided to capitalise on it. "We have always believed that there is a need for broadcast industry expertise and production know-how in other markets," noted Matt Endicott, Director of Systems Integration with Cornerstone. "From rock concerts to new product launches, conventions and sports events, event organizers know that live video can help them tell powerful stories, and that's where we come in."
In 2016, Cornerstone invested in a 53-foot truck to support the company's burgeoning schedule of events requiring video production. "It was certainly a big investment for us," commented Endicott, "but we felt ready to move beyond the flypacks that we had traditionally been using. We wanted to build something that would respond to the ambitions of our customers and enable us to offer first class production facilities, anywhere from LA to Orlando."
Cornerstone's first taste of Ross came at the annual NAB Show in Las Vegas, thanks to an introduction from RIA Corporation, a Ross Video Platinum partner in the Western US/Rocky Mountain area that specialises in event production, corporate events and content for houses of worship. "We've worked with Ross for years", notes Dave Roberts, RIA's CEO. "We've always promoted Ross because of the comprehensive range of solutions and the company's infamous customer service, so when Cornerstone approached us about their truck, we knew Ross would be an ideal choice. Matt Endicott certainly appreciated Ross Video's approach during their NAB meeting. "We spent a lot of time at that show meeting the major industry vendors, and we were extremely impressed by the welcome we received from the Ross team and by the discussions we had about our truck; no smoke and mirrors – just straight answers to straight questions. That works for us!"
With RIA Corporation taking responsibility for the fit-out, Cornerstone's truck features a variety of Ross equipment, including XPression graphics, Mira replay servers, OGX openGear frames, the Ultrix-FR5 routing/AV processing platform and a suite of custom DashBoard control panels running on a dozen of Ross Video's Ultritouch touchscreen interfaces. The Cornerstone team also has one eye firmly on the next generation of Ross Video's flagship production switcher in the near future. "XPression really opened up Pandora's box for us; the ability to make last minute or real time changes to graphics has been incredible. Time and dollars saved – effortless! We've been working on some sophisticated and complex productions recently – 10 camera shoots with live links to other venues – but the team at RAI and Ross have helped us create a dynamic 'show control' solution for almost any kind of event. We've even used the Mira replay server to create an event highlight showreel to play to attendees before the event has even finished – that's extremely cool!"
Endicott is keen to highlight customer service when reflecting back on the last four years. "RIA and Ross have been great partners to work with. Everything ran like clockwork when we were fitting out the truck and I have consistently been impressed with the quality of service we have experienced ever since. First class and utterly dependable. Also, the products are so reliable and easy to use – DashBoard control panels have helped us simply the management of our productions and have dramatically reduced the complexity of our workflows. That means better looking, more efficient productions which means happy customers. We've been able to grow our business impressively since we started working with Ross and it's been an amazing few years. I can't wait to see what this new decade will bring us!"
www.rossvideo.com
Top Related Stories
Click here for the latest broadcast news stories.