Broadcast News
30/04/2018
Really Creative Media Creates Live Visuals For Friendly Fires' Comeback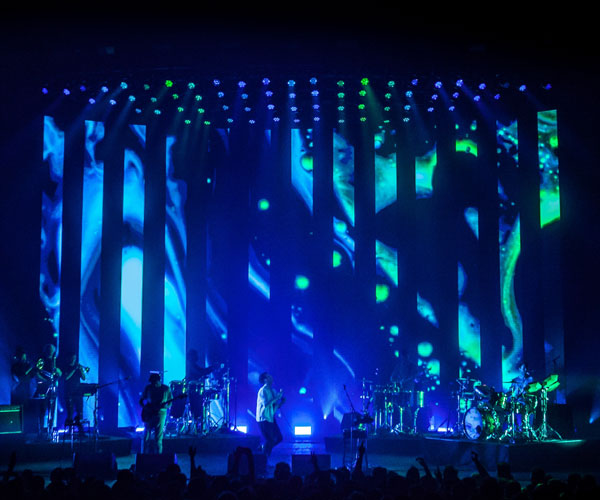 Really Creative Media (RCM) has supported Friendly Fires' one-off comeback gig by producing live performance visuals.
The event, which took place at O2 Brixton, April 5, used RCM's video expertise. Having previously worked together, artist management Machine Management brought RCM in to the project.
Creative director Jack James brought the band's 'psychedelic' content vision to life, generating original footage filmed in-house during a series of one-day shoots followed by post-production editing.
Mr Jack explained: "The band expressed a keen interest in us using practical effects such as ink droplets into water rather than trying to imitate effects through animation. We built a filming rig in-house, which allowed us to suspend high-speed cameras with macro lenses as well as the associated lighting kit in any position around our effects setups.
"We then used a variety of techniques such as dropping ink into petri-dishes of milk and water, and pushing air through liquid to create bubbles and continuous flow patterns. Different tactics like synchronising droplets of ink with the music and the use of speaker coils to affect the movement of liquid helped to create a range of visual looks to suit different songs throughout the hour-and a half set. It was quite an undertaking.
"This was a rewarding gig to deliver as it allowed us to experiment with creative effects in a hands-on way, away from our day-to-day digital animation techniques. The filming was slow - we often managed only a couple of takes an hour when accounting for all of the reset and cleaning time."
The content was produced specifically to fit the show's concave arrangement of LED screen strips which were spaced to include gaps for lighting. It was also designed with a 16:9 screen in mind for any additional performances or festival dates later on in the year.
"Working with Really Creative Media was an absolute pleasure," said Steve Down, Friendly Fires Production Manager. "We were tight on time and budget but Jack and his team really stepped up to the challenge and delivered some incredibly dynamic and high quality content that fit seamlessly into the show design from Cassius Creative. It's a shame we only got to do this as a one off."
reallycreativemedia.co.uk
Top Related Stories
Click here for the latest broadcast news stories.