Broadcast News
17/01/2018
Really Creative Media Deliver Live Content For Steps' Tour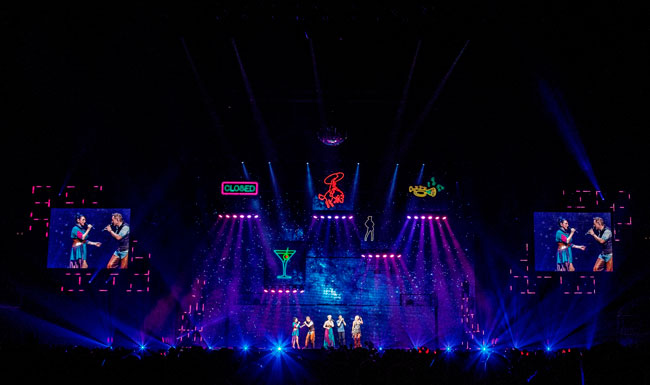 For Steps' 'Party On The Dancefloor' UK arena tour in 2017, Really Creative Media was tasked with designing the stage content of the show – a celebration of twenty years since the band's formation.
Really Creative Media's lead creative Jack James and head of video James Adkins were brought on board by the tour's production manager Steve Reeve from Pull The Pin Out to deliver the tour's live visual content.
Working with creative director Frank Strachan, Really Creative Media first captured footage during a one-day shoot with the band and dancers, destined to populate five LED square hero screens flown above the stage on a Kinesis system and two LED IMAG side-of-stage screens, helping to give the show a 'larger-than-life' feel for the audience. LED continued to be used on stage with a 18m wide back wall and LED clad tiered risers.
A week-long rehearsal process took place in Fly By Nite's Redditch studio, allowing the team to put the finishing touches to the pre-set, timecoded content loaded in Really Creative Media's Catalyst V6 media servers. Control was run from MA2 Consoles both front of house and backstage.
The shows' opening three-song medley sequence utilised the company's newest product investment into Panasonic's latest 20,000 and 30,000 lumen projectors. Two Panasonic PT-RZ31K 30,000 lumen projectors were chosen to create a theatrical visual behind the band. A 3D world depicting winter forests and Romanesque arches was projected onto a gauze backdrop suspended by a kabuki drop, used to later reveal the full stage set behind.
Jack James explained: "We wanted to use the hero screens to showcase each of the band members separately throughout the show so we pre-filmed a series of close-up headshots, which were cut in with the live camera feeds co-ordinated by our camera director Phil Jennings. We worked with Frank's creative vision to help deliver high-energy, vibrant content to match the rather pop-tastic performances by Steps. It was a pleasure to be part of such a creative collaboration with Frank and with lighting director Tim Routledge, culminating in the arena tour which saw the band's fans really enjoying both the new and the classic songs all night."
Steve Reeve added: "The whole tour has been extremely well received by fans and it has been great to closely work with Really Creative Media, pulling a visually spectacular show together that has consistently impressed audiences. Jack and James have designed and delivered stunning stage content further helping to bring each performance to life."
www.reallycreativemedia.co.uk
(JP/MH)
Top Related Stories
Click here for the latest broadcast news stories.