Broadcast News
12/03/2018
ITV Studios Is Driving The Future Shape Of OB Vehicles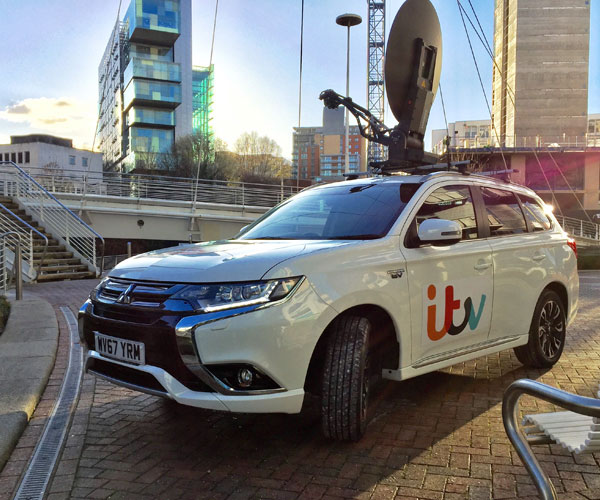 Hybrid – a thing made by combining two different elements. ITV Studios has gone beyond this meaning by combining hybrid vehicles, technology and connectivity to create eco-friendly and flexible satellite and cellular Outside Broadcast vehicles.
ITV Studios continues leading the way in putting technology innovations to best use. This time, they've combined a hybrid vehicle with the latest in bonded technology from LiveU. The result: an environmentally friendly, cost-effective vehicle that lets Outside Broadcast journalists chase those breaking news stories knowing they'll be keeping their viewers more informed, and at the same time, helping the environment.
The ITV Studios Daytime team was looking for a way to reduce the environmental impact of their programmes, such as This Morning and Good Morning Britain, which regularly rely on broadcasts away from the studio across the UK and Europe. Like other broadcasters, they had been using traditional satellite vehicles to broadcast live on location, with these vehicles covering about 40,000 miles each year. So in late 2017, after much research, ITV chose to replace them with four Mitsubishi Plug-in Hybrid Electric Vehicles (PHEV).
However, switching to these ultra-low emission vehicles was just the start; ITV also wanted their new vehicles to be equipped with broadcast transmission technology that would use less energy and provide significant operational cost savings over their previous satellite-alone option. Working with the team from digital video solutions provider Garland, they found the answer in LiveU.
LiveU solutions allow ITV to use both cellular and Ka-band satellite for added resilience and quality. Each hybrid vehicle is IP-based and equipped with an auto-pointing Explorer 8100 satellite dish from Cobham that works to open up an internet data path to the on-board LiveU transmission equipment for areas where there is insufficient cellular coverage. Instead of beaming pictures out via satellite alone, the LiveU unit aggregates all available bandwidth and sends pictures back to ITV's studio via multiple internet paths, where the signals are then reconstructed to present the programme content live and in low delay
Each vehicle is equipped with LiveU's flagship LU600 model. It's LiveU's latest portable transmission unit for global newsgathering, live sports and events coverage. The LU600 is tailored for the needs of mobile journalists who need the highest video quality and bitrate available (up to 20Mbps). In addition to the in-vehicle installation deployed by ITV, the unit can be attached to a camera, or carried in a specially designed backpack providing remote control functionality and easy access to display, controls and interfaces. It also offers fast file transfer (rising to 60Mbps), lowest delay and a bonded high-speed Internet connection. The LU600 is field upgradable to H.265 HEVC, continuing LiveU's adoption of the latest encoding standards and providing support for 'Live & Store' using the same video card. This has allowed ITV to adopt the latest compression technology without having to reinvest in new hardware.
"With the total package, we've gained agility – a key factor in keeping our viewers up to date with the latest news and events," says Tim Guilder, Technology Manager, ITV Studios Daytime. "Because the LiveU solutions work outside the vehicle, we can remove them quickly when we need to follow a story on foot. If we can't get parked or need to make our way through a crowd, we can take any of these LiveU solutions with us. This is how we could transmit an extended Good Morning Britain story from the scene of the Westminster attacks in London last year."
"LiveU provides the bonded technology needed for the best solutions for ITV," says Matt Stringer, Sales Manager at Garland. "By collaborating closely with project integrators Broadcast Wireless Systems, Garland enabled ITV to have the fully equipped vehicles they needed in less than a month. And with LiveU being the greatest innovators in the industry, we're sure the solutions we can provide will enable ITV to become even more ground-breaking in the future."
This article is also available in the March edition of Broadcast Film & Video.
www.gpl-uk.co.uk/
More Outside Broadcast and satellite services Stories