Broadcast News
09/03/2018
Audio, No Longer The Silent Partner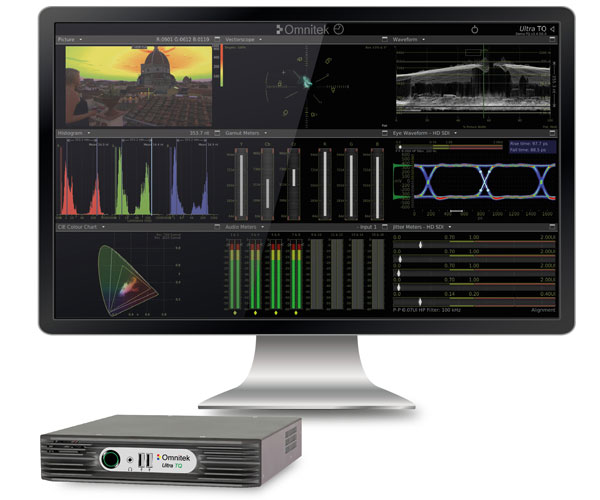 With more mixed SDI / IP and 'all IP' installations being designed and implemented it raises a few additional challenges for audio engineering.
SMPTE 2110 advocates separating the video, audio and ancillary (control and metadata) elemental streams so that they can be accessed and processed independently or all together. This effectively returns the industry back to the days before SDI where these streams were hard to manage and keep aligned.
Managing the video content within an installation is and has always been straightforward. If you have a monitor, and you can see the image correctly, all is well. This is not necessarily the case for metadata and especially not for audio.
The metadata traditionally carried over SDI has a significant part to play in establishing how the video content should be viewed. It determines the data structure of the video, the colour space, closed caption, parental control, timecode information, etc., just to mention a few.
To ensure that the metadata is transmitted correctly over SDI and/or IP it is necessary to have equipment that can correctly interpret and monitor the information. For example, in the case of closed captions / subtitles, being able to display on screen, what the end viewer is going to see.
The audio traditionally carried over SDI can be AES/EBU, Dolby E or Dolby D, depending on where in the production chain you are looking. Working with AES/EBU audio is strait forwards, but to be able to process or monitor it means de-embedding it from the SDI data stream. This problem theoretically goes away with SMPTE 2110. Dolby on the other hand is a little bit more challenging because you not only have to de-embed it, but you then must decode it to ensure it is correct.
Obviously with audio, in whatever form it is transmitted, can be detected, but it is only when you hear it, can you be sure it is correct.
For NAB 2018, the Omnitek Ultra TQ will gain the ability to analyse and decode Dolby E and D audio from monitoring and quality checking, the ability to de-embed SDI / 2110 / 2022-6 audio content to AES/EBU Audio outputs as well as the ability to monitor AES/EBU Audio on discrete audio connections. There is also and analogue monitoring output, for those who want to hear the audio quality.
The Ultra TQ has already been adopted by broadcasters in the USA, Europe and Asia because it provides the connectivity in to mixed SDI and IP environments with the comprehensive tool set to that suits engineering, control room, OB and program quality control installations.
The Ultra TQ supports analysis and generation of all formats up to 3G-SDI as standard with an upgrade path to 4K/UHD if needed. It is aimed at broadcast production, engineering, outside broadcast, operations and control rooms that require the comprehensive tools that are offered as standard. The new IP Option allows the SFP cage on the main board to be used with a SMPTE 2110 SFP module to transform Ultra TQ into an IP connected waveform monitor.
The Picture monitor provides a high-quality display with closed captions overlay, safe area cages and O-ZoneTM display for HDR and SDR production.
The Waveform monitor can display YCbCr or YRGB and provides full horizontal & vertical zoom of single, multiple or all line displays. Analysis of full frame video or Region of Interest can be made.
Audio Meters displays 16 audio channels with industry standard ballistics and scales. Loudness Meter supports EBU RP 128, ITU-R BS.1770-1, 2, 3, ATSC A/85, ARIB TR-B32 and OP-59 to allow program or continual loudness logging.
Ultra TQ provides logging of all SDI physical and functional parameters of the video signal against timecode, ideal for program QC and Compliance.
The integrated line test pattern generator allows the generation of 38 line-patterns. This can be upgraded to a full test pattern generator with a range of zone plates and test sequences that can be output as SDI or IP.
Physical layer analysis and advanced physical layer analysis are available as options for use anywhere SDI signal integrity needs to be checked.
The Ultra TQ benefits from a simple, easy to use and clean user interface. This allows it to be readily adopted by a range of users from those who need to use the sophisticated functionality to the casual operator who needs to find the information without having to study the manual.
Article by Alan Wheable FISTC, MITOL – Communications Manager at Omnitek
This article is also available in the March edition of Broadcast Film & Video.
www.omnitek.tv
More Broadcast Audio Stories