Broadcast News
08/03/2018
Vortex Introduce New ACCESS-NX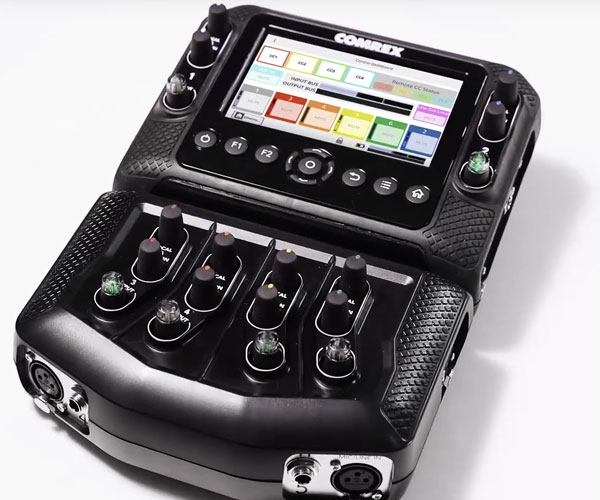 ACCESS-NX is the latest incarnation of the industry-standard ACCESS-IP from Comrex and provides a step-change in stability and resilience in IP audio codecs.
The ACCESS-NX has been completely re-designed and engineered and truly is the next generation of the industry-standard ACCESS. It provides 2x Mic/Line Inputs as standard plus tape and there is an add-on mixer to provide a total of six channels. With much-increased processing power and capacitive touch-screen, the NX provides enhanced performance and operational capability.
Developed from the ground up for use over the public internet, with two-way, stable, stereo, low-delay audio over pretty much any type of internet connection including wireless systems such as wifi, 4G and 3G, the industry-standard ACCESS-P and 2USB have been the workhorses of outside broadcast, news and sport for more than 10 years. ACCESS-NX builds on this technology and uses the latest generation of digital processing to provide multi-streaming high-quality stereo audio using CrossLock that creates a Virtual Private Network (VPN) between codec devices. This VPN can have its own rules about when to resend packets and it can do it in a much smarter way by building extra data streams between the codecs that relay important information (e.g. decoder statistics back to the encoder).
ACCESS-NX uses BRIC technology (Broadcast Reliable Internet Codec) and includes Opus algorithms, as well as most flavours of AAC (including the remarkable AAC-ELD) all of which provide near-transparent audio transmission. G722 and G711 provide additional compatibility with other manufacturers' hardware. There is also a built-in linear uncompressed mode (PCM) and FLAC lossless audio coding, suitable for managed networks with a high Quality of Service. Because the ACCESS constantly adapts to changing network conditions, audio delay is kept to a minimum whilst maintaining audio stability.
The Switchboard Server (aka Traversal Server) is hard to describe but an extremely useful development as it enables connections to be made between Comrex codecs such as ACCESS and BRIC-Link, quickly and simply. A codec connected to a local network will usually be 'hidden' from the outside world behind an IP firewall or router, which makes accepting incoming calls from an external unit troublesome without some re-configuration of the network. However, by first making a connection to the Switchboard Server, a codec can "punch a hole" through the firewall, providing a return path by which other codecs can connect in. By keeping a record of the route by which data needs to travel to reach each registered codec it also allows users to call another device by "name" rather than by "number" (or IP address). The audio does not pass through the server – only the IP addressing is handled by it. Imagine being able to call into a portable that is on a mobile network or a codec that is connected to the internet at a wifi hotspot without having to ask Starbucks to open Port 9000 UDP on their router. It also manages CrossLock connections which provide multi-streaming for increased resilience. 

Whilst the ACCESS-R is the perfect complement to NX, with OPUS codecs now included in all ACCESS and now BricLink-II (which is a cut-down version of the ACCESS-R Rackmount), a lower-cost back-end solution is now available using BricLink-II at the studio where full compatibility is not necessarily required.
Apart from normal point-to-point connectivity, ACCESS also supports multi-streaming, IP multicast and SHOUTcast™ connections. In addition, the HotSwitch application provides "live" audio switching between a number of remote codecs all connected simultaneously to a single studio codec whilst MCC Multi-Codec Control lets you control and monitor your entire fleet of codecs from a single screen with traffic light indicators to show current connection status.
For use in the most remote locations, the ACCESS works seamlessly with a satellite terminal to provide the same high-quality audio expected of AAC and Opus algorithms from almost anywhere in the world using the Inmarsat BGAN, V-Sat or other satellite data service.
This article also features in the March edition of Broadcast Film & Video.
www.vtx.co.uk
More Broadcast Audio Stories