Broadcast News
09/02/2018
New Batteries From IDX Available At BVE 2018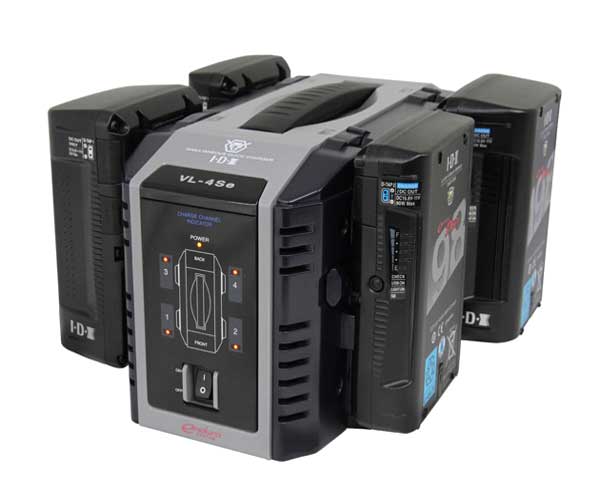 Shipping in February, the DUO-C98 and DUO-C198 are worthy upgrades to the existing popular 95 and 190 models.
Increased capacity is always welcome, but the addition of digital data is probably more significant for many users who need to know accurately when a battery will need changing.
The V-Torch is another additional feature to add to a long list which includes the D-Tap advanced connector which facilitates low cost charging.
Also available and shown on the IDX stand H-26 are the SBU-50 rated at 48Watts and the SB-U98 having a very large capacity of 96Watt hours. They have the very popular Sony BPU form factor. A major plus are the D.C. plugs that power all the ancillaries essential to modern film making and lacking on so many competitors' products.
The SBU-98 has 3 outputs, the conventional D-Tap, the D-Tap advanced, and the very popular USB format to give 5.0 volts at up to 2.3 amps. Having a smaller capacity, the SB-U50 has 2 outputs losing the conventional D-Tap but retains the more versatile D-Tap advanced and the 5.0 volt USB connectors.
Next to arrive will be Sony L series form factor batteries, the SL-F50 rated at 48 Watt hours and the SL-F70 having a larger capacity at 72 Watt hours. They have 2 D.C. output plugs. One is the new X-Tap plug offering 7.4 volt battery voltage output via a C-XTAP2 cable. This cable is open ended allowing the user to configure it to fit their favourite accessory.
In addition to D.C. output, this X-Tap connector allows controlled charging of the battery from the compact and low cost IDX charger the LC-XT1.
The second D.C. output uses the very popular USB format to give 5.0 volts at up to 2.3 amps.
Eagerly awaited are the new IPL-98 and IPL-150 models (IDX Powerlink batteries).
When they are stacked on the camera, power is drawn from the rear battery rather than all simultaneously and it can be exchanged when discharged allowing filming to take place uninterrupted. Digital data is supported and uniquely, a budget IDX battery like the CUE-D150 can be stacked on the back of an IPL.
Camera operators will love the fact that up to 8 IPLs can be stack charged on the VL-2000S two channel charger, so no longer is there a need during the night to get up and swap empty for charged batteries.
A lightweight low cost charging option is also possible through the D-Tap advanced socket. A range of outputs include USB and D-Tap and there is even a built in V-Torch, to help operators function in the dark.
www.idx.tv
Top Related Stories
Click here for the latest broadcast news stories.